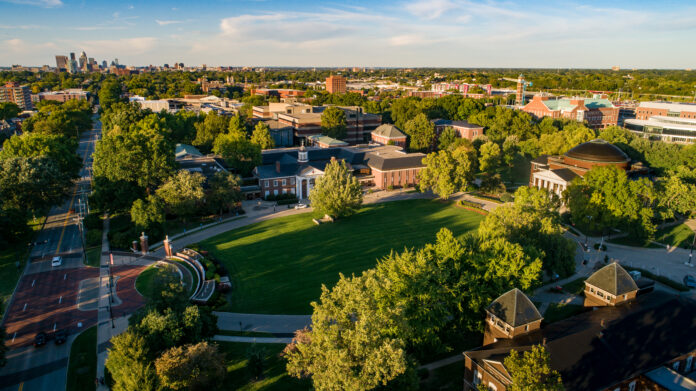 A collective sigh of relief could be heard around the world when the clock struck midnight on January 1, 2021, as we marked the end of a grim and unprecedented year.  
Of course, we've since learned the COVID-19 pandemic, and all of the uncertainties that come with it, remains. Still, 2021 seemed a little different. We know a little more about this virus, for example, and can make better mitigation efforts.
For UofL, that has meant a return to in-person operations while maintaining some hybrid elements. It meant masks and pop-up vaccination sites and plenty of continued mindfulness about safety. It meant a non-traditional raiseRED dance marathon, a livestreamed International Fashion Show and a Commencement ceremony at Cardinal Stadium for the first time ever.
In other words, it meant we carried on as a community – carefully, collaboratively – understanding that time doesn't stop and neither do we. Our Cardinal spirit was on full display during 2020. In 2021, we brought that spirit to the next level – achieving records and reaching milestones while illustrating that not even a lingering global pandemic can slow us down.
Here are just a few of the highlights from the past year to instill pride and to motivate us into 2022.
Pandemic-inspired
When the COVID-19 pandemic reached the U.S., UofL went to work with an all-hands-on-deck mentality, searching for solutions, helping others and creating effective workarounds. That mentality continued in 2021 and extended to our pedagogical efforts. Our online learning programs experienced a 40% growth in the face of the pandemic, for example, while our law and dental faculty received an international award for creating a novel online teaching method in these new times.
Outside of the classroom, when vaccinations became available in late 2020, our UofL Health team was the first to step up and get the injection to prove their safety and efficacy. And when the city rolled out mass vaccinations, our medical, nursing and public health students and faculty were on the front lines.  
As new variants appear, our groundbreaking COVID-19 wastewater research continues to provide critical learnings and is now backed by a CDC grant for $8.6 million.
Our School of Medicine joined a handful of other organizations, including local activist Christopher 2X's nonprofit Game Changers, to launch a new campaign with a goal of ensuring all children have access to a face mask.
Diversity wins
Of course, our focus extends well beyond the pandemic. During summer 2020, former president Neeli Bendapudi announced a plan for UofL to become the premier antiracist metropolitan research university in the country. Several major steps have been taken since, including new hires and courses.
That's just the tip of the iceberg. For the eighth year, UofL has been named a recipient of the Higher Education Excellence in Diversity Award from INSIGHT Into Diversity magazine, for example. 
Toyota invested $1.7 million this year to increase opportunities for underrepresented students and assist them in earning engineering degrees at UofL. Further, the inaugural class of graduates from the Louisville Teacher Residency Program began their teaching careers with JCPS. The program is a collaboration between JCPS and the UofL College of Education and Human Development to recruit more teachers of color. And, our Brandeis School of Law is addressing barriers to opportunities for lawyers of color in the underrepresented environmental law niche.
Notably, UofL recently opened a new Cultural and Equity Center, which brings together several offices that provide resources and create a sense of belonging for underrepresented students. The center is home to the Office of Diversity Education and Inclusive Excellence, Cultural Center, LGBT Center, Muhammad Ali Institute for Peace and Justice and the Women's Center.  
Research 1 Institution
UofL especially lived up to its status as a Carnegie-designated Research 1 institution this year, garnering a record-breaking $201.5 million in research funding for the fiscal year. This is more than $30 million over the previous record set a year earlier and supports work addressing some of the biggest global problems of our time. Our research literally spans the cosmos, and has yielded opportunities for education, training and policy development to address child trafficking in Kentucky; realized the health benefits of living in areas of high greenness; and turned invasive plant species that threaten local ecosystems into art.
Further, a team of UofL researchers is developing a pilot program for the city that will divert a portion of 911 calls to health, behavioral health and ancillary services. In March, the National Institutes of Health provided a $7.8 million grant to fund work at UofL's Kentucky Spinal Cord Injury Research Center, in collaboration with Medtronic, to develop and test software applications designed for spinal cord injury. Not long after that, the NIH also provided UofL with an $11.3 million grant to support research into liver-related illness.
Don't expect anyone at UofL to rest on research laurels, either. The Louisville Automation and Robotics Research Institute (LARRI) just opened a 10,000-square-foot space dedicated to research, education and collaboration in robotics, for example. Researchers from UofL are also working with Eli Lilly and Company in a clinical trial to determine whether its monoclonal antibody treatment, bamlanivimab, can reduce the risk of transmission of COVID-19 in long-term care facilities.
Meanwhile, faculty in UofL's College of Education and Human Development are conducting research to help JCPS school leaders create systems and structures that allow for equitable experiences for students and staff, and UofL and Louisville Muhammad Ali International Airport (SDF) are collaborating on research that will enhance travelers' experience and airport operations through innovation.  
This focus on research is reaping plenty of reward as evidenced by UofL-born startup Talaris Therapeutics' $150 million initial public offering earlier this year. Expect this momentum to continue, as UofL recently opened a new office, called UofL New Ventures, to help launch and grow startup companies built on university research and technologies.
Business and community
Beyond startup support, UofL has proven time and time again that we are dynamically connected to our community as a premier metropolitan university. There were plenty of supporting examples of this connection in 2021. For instance, Kosair Charities granted UofL $6.6 million to support children's health efforts, including $5.5 million to fund the Kosair Charities Pediatric Neurorecovery Center for another 5 years.
Louisville-based Yum! Brands, one of the largest restaurant companies in the world, partnered with the UofL College of Business to create the Yum! Center for Global Franchise Excellence. The center provides education to future and existing franchising professionals, allowing underrepresented people of color and women to unlock opportunities to create generational wealth.
UofL received a five-year grant totaling $2 million to help minority-owned manufacturing businesses adopt additive manufacturing and 3D printing technology. The Plan Room, a new business accelerator created by OneWest to assist minority-owned construction companies in developing their businesses, began receiving support from the College of Business.
Further, UofL and the U.S. Department of Defense's National Security Innovation Network entered into an agreement that solidifies collaboration among DoD end-users, UofL students and faculty and Metro Louisville's early-stage venture community.
And, UofL is one of 32 universities nationwide participating in a U.S. Department of Energy program to help manufacturers in the region improve their energy efficiency. UofL will receive $2.2 million of a $60 million investment in the current cohort of DOE Industrial Assessment Centers program.
Student success
Our students have also proved they're exceptionally resilient this year, creating change, contributing to innovation and generally just kicking some you-know-what. UofL continued its track record as an institution rife with prestigious scholars, for example, generating more Fulbright scholars than all Kentucky public higher education institutions combined.
In addition, the Harry S. Truman Scholarship, awarded to one college junior in Kentucky each year, went to triple-major Lexi Raikes (English, French, political science), who planned to use the $30,000 scholarship to attend Georgetown University in Washington, D.C.
Ten students in Professor Chris Reitz's Art and Activism seminar created the "Promise, Witness, Remembrance" exhibition honoring Breonna Taylor. The exhibition was featured at the Speed Art Museum in the spring.
Two Speed students, Jorge Sanchez and Mercedes Pastor, finished second at an international simulation competition, while music major Benjamin Carter's "A Winter Night" helped earn him the 2021 Kentucky Music Educators Association Composition Award, and Sophomore Rawan Saleh was recognized as a top 20 under 20 from the Arab American Foundation for her work to end racism.
A UofL student startup aimed at fighting cancer and led by MD/PhD student Jordan Noe  won the inaugural CardStart Innovation competition. The startup is developing a new cell-based therapy for the treatment of aggressive solid tumors.
UofL's Cardinal Battalion Ranger Team finished in the top 10 at the Sandhurst Military Skills Competition. Additionally, nearly 50% of the class earned an "outstanding" ranking at Cadet Summer Training, which means they're ranked in the top 15% of cadets in the country.
A group of UofL undergraduate students is focused on closing what it calls "the perception gap" through the launch of a new, nonpartisan online magazine. The Louisville Political Review (LPR) is modeled after the Harvard Political Review.
A UofL-based Unified Sports basketball team has been selected to represent the state as part of Team Kentucky at the 2022 Special Olympics Games in June. The team combines traditional Special Olympics athletes with teammates who do not have an intellectual disability. It is the first unified team that Special Olympics Kentucky has ever sent to a USA Games.
Our student-athletes achieved a 91% graduation rate this year, matching the Cardinals' best mark in the Graduation Success Rate report developed 17 years ago by the NCAA. Outside of the classroom, we sent 10 athletes to the Tokyo Olympic Games; Catcher Henry Davis became UofL's first No. 1 overall draft pick in the Major League Baseball Draft; our spirit squad won its seventh consecutive national title; and our volleyball team has been ranked No. 1 for much of the season while remaining unbeaten and headed to the Final Four. Further, six of our student-athletes earned a Top 6 for Service award for their community service efforts and our entire athletics department finished second among all Division I NCAA institutions for the Team Works Service Challenge.
Accolades
The accolades certainly didn't stop on the athletic field. In 2021, UofL was named one of the most "transfer-friendly" schools in the U.S., for example. 
UofL's fully online programs were also acknowledged by U.S. News & World Report to be among some of the top education opportunities for online students in 2021 across the following categories: Online Bachelor's, Online Bachelor's Psychology, Online Graduate Criminal Justice, Online Graduate Education and Online Graduate Engineering. 
For the 12th consecutive year, UofL was recognized for its commitment to serving military-connected students by earning "2021-2022 Military Friendly" institution designation. UofL was one of only 29 Carnegie Designated Tier 1 Research institutions in the nation to earn the designation.
And in September, UofL once again held onto its spot as the top-ranked Kentucky college or university in Sierra Magazine's 15th Annual "Cool Schools" rankings.
A bright future ahead
If we're able to accomplish all of this in a global pandemic, imagine what's next for UofL. The future is undoubtedly bright, particularly as the Belknap Campus continues its transformation and prepares for new residence halls to open soon. Designed with input from student advisors, the halls create a modern experience aimed at helping students achieve success and providing them with a great place to learn.
We're also positioned well as a great place in which to invest. Raise Some L, UofL's annual day of giving, drew support this year from a record number of donors, including Cardinal fans in all 50 states for the first time. Together, these donors have pledged to fund education, research and community engagement efforts throughout the university.
And we've put in the work to ensure we're a great place to work. UofL recently launched a new Employee Success Center, providing employees with professional development opportunities, onboarding, mentoring, workshops and other engaging initiatives and programs.
Bendapudi announced Dec. 9 that she was leaving to take the same role at Penn State University. Provost Lori Gonzalez has been named interim president, while Josh Heird has been named interim athletic director. We are starting the new year with new leadership and with that comes new opportunities. And, as we've especially proven these past two years, nothing can stop us.