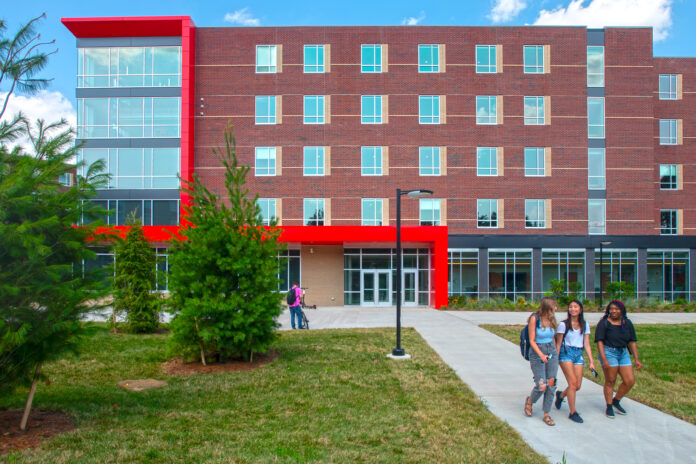 University of Louisville students, staff, administration and several trustees celebrated the continued transformation of Belknap Campus Aug. 16 with a ribbon-cutting to mark the opening of the new Belknap Residence Hall.
The five-story, 452-bed residence hall is the first of two new halls for first-year students that are part of an $87 million project replacing outdated buildings used for three decades for housing and university offices. The second hall will open in Fall 2022.
"By cutting this ribbon today, we are beginning an exciting new era for UofL students on Belknap Campus," said UofL President Neeli Bendapudi. "Not only are we welcoming back students, many of whom have been learning virtually due to COVID-19, we are presenting our first-year students with a thoroughly modern residence hall designed to help them achieve success."
Designed with input from student advisors, the hall is located in the heart of Belknap Campus near classrooms, libraries, dining areas and restaurants, a campus movie theater and other activity spaces in the Student Activities Center and an abundance of tree- and garden-lined grounds. 
In addition to its single- and double-occupancy rooms, the hall includes:
Classroom space
Study areas filled with natural light 
Private study rooms equipped with desks, chairs and whiteboards
A game room, kitchen and multiple laundry facilities, and
Proximity to UofL's new Cultural and Equity Center, set to open in October.
"I have to be honest; this project was a big risk, as the debt load will be carried way past my tenure and with the exception of maybe our student leaders, none of us currently working at UofL will likely be here when it is paid in full," said Director of Housing Tom Hardy. "However, the entire team at UofL knew this was an investment we needed to make to be competitive, but most important to better meet the needs of today's students."
Belknap Residence Hall is at full capacity for the Fall 2021 semester. Students will begin to move in this week and a full schedule of activities welcoming students back to campus begins Aug. 18; classes begin Aug. 23.
A third new residence hall, the 128-bed Denny Crum Hall, is also being constructed on Belknap Campus and scheduled to open in 2022. It will house a mixture of student-athletes and non-student-athletes.
More details are available here.