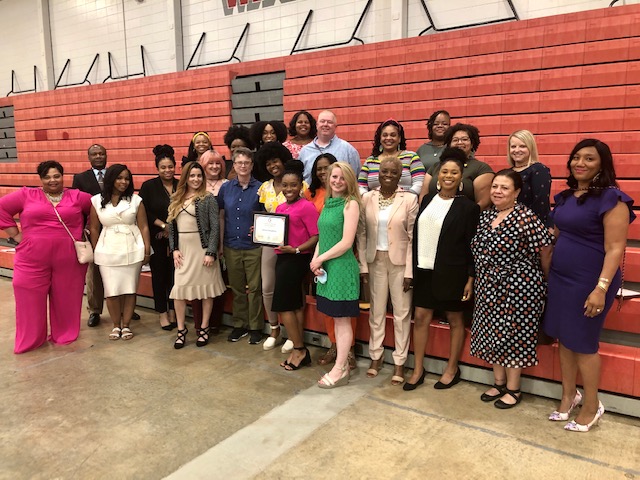 After earning a bachelor's degree from UofL in 2020, Jamaia Daugherty says she jumped at the opportunity to complete a master's degree in one year with most expenses covered.
Now, as a part of the inaugural class of graduates from the Louisville Teacher Residency program, Daugherty has signed a contract to launch her career as a teacher in a Jefferson County Public Schools classroom.
"I'm so glad I did the residency program," Daugherty said. "There is no other teaching program in the state that prepares you to provide an equitable education to a diverse group of students like this one does."   
The program is a collaboration between the UofL College of Education and Human Development and JCPS to recruit and train more teachers of color for JCPS schools.
Of the 28 students receiving their Master of the Arts in Teaching degree from UofL, 21 are teachers of color. The students received a reduced tuition rate, $30,000 stipend and were paired with a mentoring teacher from JCPS. The accelerated degree program required students to teach four days a week with instruction from UofL professors on the fifth day. It also allowed students to complete their master's degree in just one year. In return, they have agreed to teach in a JCPS Accelerated Improvement School, or a school approved by the district, for five years.
The interim dean of UofL's College of Education and Human Development, Amy Lingo, sees the first year of the teacher residency program as a huge success on many levels.
"This has expanded our relationship with JCPS, furthered UofL's commitment to equity, and brought talented people into teaching who might not have otherwise considered it as a career," Lingo said. "We look forward to watching them make their mark with the students in our community."
Sixty percent of JCPS' enrollment is students of color, and JCPS Superintendent Marty Pollio says the school district is committed to recruiting, training and retaining more diverse teachers.
"The Louisville Teacher Residency program is a key piece in our equity effort, putting more teachers in classrooms who look like our students," Pollio said.
These newest teachers range in age from 23 to 60 and come from a broad range of backgrounds. For several, teaching will be a second or third career.