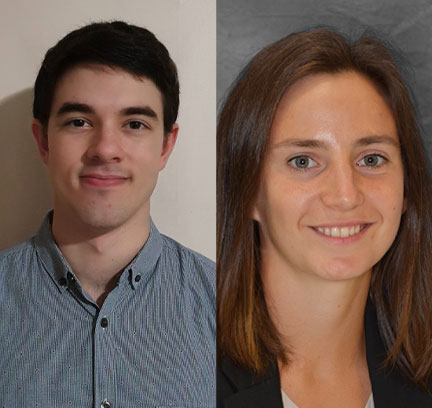 Senior Industrial Engineering students Jorge Sanchez and Mercedes Pastor finished second at the 2021 Student Simulation Competition sponsored by FlexSim Healthcare. This competitive international student contest is hosted by Society of Health Systems within the Institute of Industrial and Systems Engineers.
"The competition was about redesigning an ambulatory endoscopy center to help mitigate the negative impacts of COVID-19," Sanchez said.
While including requirements imposed by the Centers for Disease Control on healthcare facilities, the pair were also asked to find ways to optimize the current facility using FlexSim, a simulation software. Once Sanchez and Pastor made the simulation and wrote a paper detailing their improvements, why they made those changes, and their results, they gave a presentation at the Healthcare Systems Process Improvement Conference.
With Sanchez finishing his final year of Speed School while working at an internship in Panama, and Pastor's busy schedule of courses and playing field hockey for UofL, their collaboration had to happen through Microsoft Teams.
"Since it was difficult for us to be available at the same time, our key to success was to be organized, have weekly meetings, dividing the tasks each week and working independently," Sanchez said.
The project required learning new simulation software, and the two were able to apply what they learned in their Simulation class with Dr. Arsalan Paleshi, also their faculty adviser on the project. In fact, Sanchez said they used many of the concepts learned in IE classes.
"For example, we had to conduct many experiments to find the best combination of resources and staff, so we did a design of experiments learned in Dr. Erin Gerber's class," he said.  "Also, we completely changed the layout of the healthcare facility to make it more efficient by applying concepts learned in our facility location and layout class with Dr. John Usher."
The team was so motivated to do their best, that even after finishing the paper, they found a way to make their model more efficient with better results, so they rewrote the paper.
Paleshi said the students expressed interest in the competition when he offered it as an option to complete the required major simulation project in his Fall 2020 Simulation class.
"We met throughout the semester and discussed guidelines and how to prepare the material," he said. When the two were selected as one of the top three teams, Paleshi said he gave them advice on how to improve their presentation. "This competition was not just against undergrads; graduate students also compete, and on an international level. I'm really proud of them."
This is the first time UofL students have reached this level in this competition.
Faculty advisor Paleshi, who has been a full-time faculty member since 2016, said simulation modeling is experiencing an exponential growth in popularity.
"Now that we have more powerful computers and more sophisticated software, it's affordable for even small companies to run simulation models," he said. "In the past, only major corporations used it for strategic-level decisions, but now smaller companies have the capacity to do it at an operational or tactical level."