If you've got tickets to Actors Theatre of Louisville's beloved holiday classic "A Christmas Carol," you'll get to applaud one of UofL's own.  
Kala Ross, a graduate student earning her MFA in performance in UofL's Department of Theatre Arts, scored a highly competitive and coveted role in the cast. She's playing the characters of Belle and Mrs. Fred, as well as a member of the ensemble.
Belle is the love interest of Ebenezer before he evolves into the infamous Scrooge and Mrs. Fred is the wife of Scrooge's nephew. 
"I get to see two dynamics of love through these characters," Ross said.
Ross, who is also the recipient of the prestigious 2019 Irene Ryan National Acting Scholarship, said the role is an excellent opportunity to prepare for her post-graduation career. She's enjoyed getting to know fellow cast members who work and live across the country. Actors' sterling reputation in the theater world attracts some of the best and brightest to star in its productions.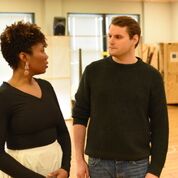 "I'm honored to be in the room with working professionals who are doing what I want to do," she said. "It's very affirming. I've had conversations with them about their journeys."
Baron Kelly, Theatre Arts' director of graduate studies and head of acting, directed Ross in several UofL productions and helped coach her for her current role at Actors. She's a tremendous talent, he said.   
"It has been evident that Kala is ready to work professionally," he said. "This Actors Theatre opportunity validates everything she has exhibited as a graduate student and what's in store for her professionally."
For her thesis role, Ross played the role of Tonya in Theatre Arts' fall production of "King Hedley II" by August Wilson. The show kicked off Theatre Arts' Season of Black Plays that picks up again Jan. 23 with "Detroit '67" by Dominique Morisseau.
If you can't make it to see Ross in "A Christmas Carol," she'll be singing on New Year's Eve with the Jerry Tolson Quintet at Brendon's Catch 23. Tolson is professor of music education and Jazz Studies at UofL's School of Music.
If all that is still not enough holiday performance pizzazz, Theatre Arts Professor Russell Vandenbroucke has yet another opportunity. He adapted Truman Capote's short stories "A Christmas Memory" and "A Thanksgiving Visitor" into the play "Holiday Memories," which runs at Bunbury Theatre from Dec. 6-22. Vandenbroucke directs a cast that includes many UofL students and alumni.
"A Christmas Carol" runs through Dec. 23 in the Pamela Brown Auditorium.