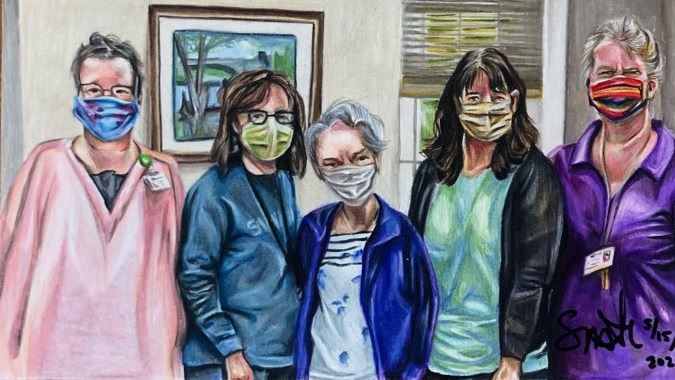 University of Louisville field hockey goalkeeper and rising sophomore Sam Minrath has kept busy after the spring semester was moved online due to the spread of COVID-19. The art major has used her craft to honor members of her UofL field hockey family who are fighting the pandemic every day. 
Shortly after much of the nation began staying at home in order to prevent the spread of COVID-19, Minrath would see her mother, a doctor, return home exhausted after working long hours at the hospital. With the cancellation of the spring season, Minrath found herself with extra time on her hands, so she decided to put her talent to work.
"My mom said never has any of my artwork to hang, because I always do some sort of specialty thing," said Minrath. "So, I thought I would make something for her to hang up in her office." After drawing a picture of her mom, Sam shared it on social media and it took off from there.
Former UofL field hockey teammate, Maria Gomez, reached out from Madrid, Spain with a photo of her father, a pulmonologist. 
"And then I did the hands, which a lot of people liked," Minrath said. "It was my mom's and my hands and I felt like this represented a lot and people could connect with this piece. After that I got a ton of feedback with people asking if I could draw something for them – from all over the world, which was really cool."