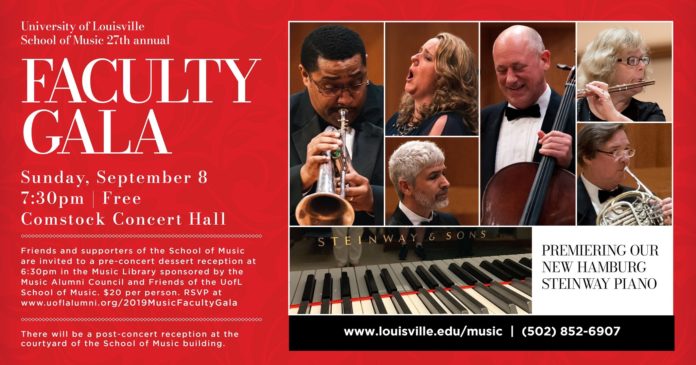 UofL's School of Music commences a busy 2019-20 season Sept. 8 with its 27th annual Faculty Gala Concert. 
The 7:30 p.m. concert features some three dozen music faculty members in performance, receptions before and after the show, the chance to meet the new dean, Teresa Reed, and hear the premier of the school's Hamburg Steinway Piano.
"I think the Gala is a wonderful tradition," Reed said. "It's a chance for the School of Music to feature and celebrate the performing artists who are our faculty. This really shines the spotlight on them. There will be a range – really to suit every taste – of performances. Audience members will get the chance to sample the range of talent that our faculty represents."
The program includes numerous works using the department's new piano, which traveled from Hamburg, Germany, to UofL this summer. The purchase was made possible by the estate of Calvin and Helen Lang.
Naomi Oliphant, associate dean, will join Brenda Kee, emeritus professor of Piano, on Dvorak's "Slavonic Dance" Op. 46 #1 for piano four hands.
"It's a wonderful dance depicting the spirit and traditional rhythmic patterns of the folk music of his Eastern European background," Oliphant said. 
They also will be joined by vocal faculty, Emily Albrink Katz, soprano; Katherine Donner, mezzo; Chad Sloan, baritone and Jesse Donner, tenor; to perform a grouping of Brahms' "Liebeslieder Waltzes."
Other pieces of instrumental chamber music also will be performed, including slow, romantic works that show off the "expressive and singing capabilities" of the new piano, Oliphant said.
"We picked the pieces because they showcase the full range of sound and colors that the new instrument is able to produce and because they are well-known works that are so popular with audiences," she said.
The concert is free and open to the public, but the champagne and dessert reception before the concert is $20 and requires registration. 
As usual, the Faculty Gala serves as the gateway into the School of Music's jam-packed year of performances, which includes world-class visiting artists, along with student and faculty performances. Most of the events are free and open to the public. 
Check the calendar for a full list. Fall highlights include:
Sept. 28, Friends of the School of Music 5k Walk/Run at Cherokee Park.
Sept. 29, All You Have to Do is Listen: The Center for Free Enterprise and School of Music present nationally-known composer Rob Kapilow for an entertaining and informative talk. Kapilow will take attendees into the mind and music of Mozart to discover the unique role of "listening for possibility," in entrepreneurship, leadership, innovation and collaboration. He will be accompanied by a UofL quintet.
Oct. 1, What Makes It Great: Music of Duke Ellington with Rob Kapilow & Jazz Ensemble I, $20 general admission, $5 for students.
Oct. 4, What Makes It Great: Great Broadway Composers with Rob Kapilow, Emily Albrink Katz, & Chad Sloan, $20 general admission, $5 for students.
Oct. 18-20, Guitar Festival: Top-rate guitarists, devoted students and casual enthusiasts are welcome for study and artistic development.
Oct. 27, Music eX Series: Anna Petrova, piano; Jennifer Ross, violin; Paul York, cello. A subscription for this four-concert series is $50. Individual concert is $15 and student tickets are $5. All proceeds go to piano and string scholarships.
Oct. 31, University Symphony Orchestra performs Halloween Spooktacular.
Nov. 11-17, New Music Festival: Features talks, master classes and nightly performances.