UofL's School of Music is going worldwide this summer with an especially long list of travel opportunities on the books.
Students and faculty are learning, teaching and performing in such far-flung locales as Ecuador, Costa Rica, Vienna, Austria, Denmark, Korea and Thailand.
It's no wonder as "advancing the art of music globally through the work of faculty composers, performers and researchers" is a key goal in the school's mission statement.  
"The faculty and students of the School of Music have been increasingly active from an international perspective for the past dozen years or more, with the current summer representing a kind of apex of these opportunities in terms of the nature of international programs in which we are involved and the numbers of music students and faculty members participating in some fashion," said Christopher Doane, dean of the School of Music. "Our students and music faculty members expect to have these opportunities as a part of their UofL experience and we have been fortunate to have the international connections and network of friends, donors and music alumni to make these opportunities possible."  
Kimcherie Lloyd, director of Orchestral Studies, traveled this May with 32 students – both instrumentalists and singers – to perform in Costa Rica's National Theater for a concert celebrating the 25th anniversary of the Instituto Costarricense Pro Música Coral.
The trip, which included sightseeing, masterclasses and other performances, was commended in official letters signed by the president of Costa Rica.
It was the second such trip to Costa Rica for the School of Music. Students performed there five years ago as well. Both trips were a result of connections formed when Josue Ramirez came to UofL to study piano performance in 2010 as a Fulbright Scholar.
As amazing as that first experience was, this one was even better, Lloyd said. The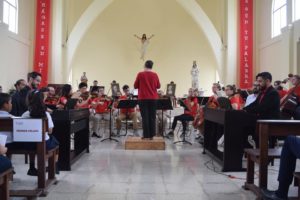 hospitality, comraderie and quality of music shared was incredible, she said.
"I cannot say enough about our Costa Rican friends who hosted us," Lloyd said. "It was extraordinary … I think the students would say it was a life-changing experience. There were lots of tears when it was time to leave."
Jessica Wise, who graduated this spring with her Masters in Music in Flute Performance, agreed.
"Playing the flute duet in the Bach Magnificat with my duet partner Katie McDonald in the National Theater was my favorite part of the trip. To play in such a beautiful hall filled with musicians and a full audience is an experience I will never forget," she said. "My host family was also absolutely incredible and my favorite part of the trip too. They made me feel a part of their family and so welcome. It was very difficult to leave them. They invited me back to their homes in the near future, so I hope to travel back to Costa Rica and see them again soon." 
The trip marked the beginning of a formal exchange program between UofL's School of Music and Costa Rica's National University School of Music, which will ensure many more students will have similar experiences in years to come.
Other international trips for the School of Music this summer include:
Jazz in Ecuador
Twenty students and faculty from UofL's jazz program joined Mike Tracy, Jazz Program director, for an exchange program at the Universidad de las Américas Escuela de Música in Ecuador. Read more about the trip on Tracy's blog.
Music Therapy in Vienna
The music therapy study abroad program is traveling to Vienna, Austria and Denmark in June. The group will visit the University of Music and Performing Arts and participate in a music therapy career day with the famous Vienna Boy's Choir. In Denmark, they will attend the European Congress of Music Therapy. Students will present a workshop with Petra Kern, UofL music therapy professor.
Cardinal Singers in Korea and Thailand
Kent Hatteberg will lead the award-winning Cardinal Singers on tour to perform in Korea and Thailand June 20-July 8.
Comstock Piano from Germany
Even the instruments are in on the globe-trotting action. Piano faculty members Anna Petrova, Krista Wallace-Boaz and Naomi Oliphant traveled to Hamburg, Germany, to pick out a new Steinway piano for Comstock Hall. The purchase was made possible by a bequest from donors Calvin and Helen Lang. Click here to see Oliphant playing the piano before it makes its journey back to Louisville.