The University of Louisville Cardinal Singers are international stars, once again. 
UofL's most selective choir won the Grand Prize in the 11th International Choir Competition in Zadar, Croatia.
The 34 singers, mostly School of Music majors, competed against about a dozen other choirs from across Eastern Europe and beyond.
"We had a really well-rehearsed and diverse program," said director Kent E. Hatteberg.
The group was required to sing a song written by a composer born before 1600, a contemporary piece, a song from the U.S., and it was recommended they include music from a Croatian composer, too. The performance needed to total 15-20 minutes of music, all sung a cappella.
"We all worked very hard and stayed focused to give our best performance," said Seon Hwan Chu, a graduate student of choral conducting.
As prestigious as the honor was, it was hardly the first for the group.
Since 2003, the group has traveled widely, making an international trip nearly every year, sometimes more, racking up dozens of awards.
For example, in 2013, the group won the Grand Prize at the Yeosu (Korea) International Choir Competition and the Hội An Choir Prize at the 3rd Vietnam International Choir Competition. They won the German Chancellor's Prize at the Harmonie Festival in Linden-Holzhausen in 2011.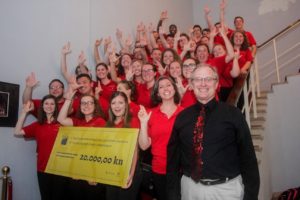 So many accolades have solidified the Cardinal Singers' reputation as one of the top amateur choirs in the world.
They are often invited to perform at concerts across the globe, like last year's Gotham SINGS! Collegiate Choral Showcase in Carnegie Hall, New York City, and the China International Chorus Festival in Beijing in 2016.
On such trips, Hatteberg always makes sure the students do some sightseeing and extra performing along the way. For example, on their recent trek, they performed additional concerts in Vienna, Slovenia and Croatia and had some tourist fun at each stop.
Hatteberg said that for many students, these trips are life-changing experiences.
"They're kind of awe of everything," Hatteberg said. "I say take it all in because it may not happen again for the rest of their lives."  
The trip to Croatia was the fourth time Chu has been abroad with the Cardinal Singers. His undergraduate degree was in biology, and he was considering dentistry. But, he'd always loved music and wanted to study it. His time with the Cardinal Singers made him realize he wanted to become a choral director.
"It built me into a musician," he said.
Hatteberg said he's had other students who met their spouse abroad or decided to go back and teach in that country.
"Sometimes it completely changes someone's life," he said.   
Follow the Cardinal Singers on Facebook to learn about upcoming performances.