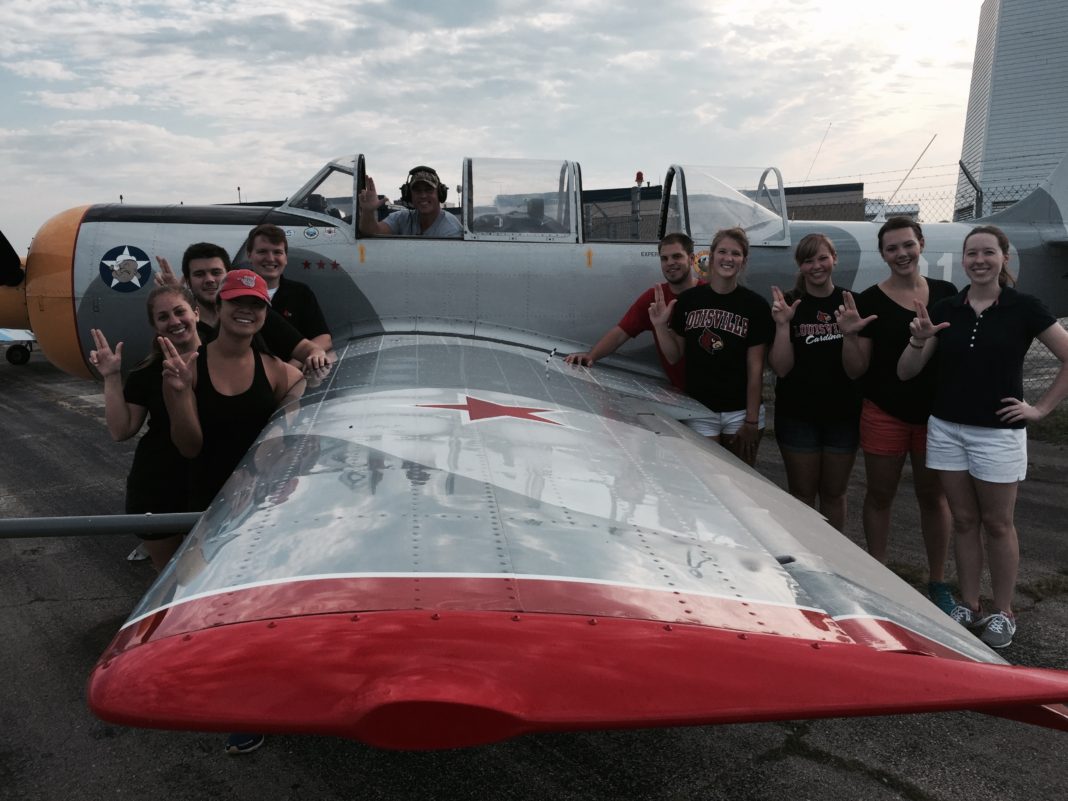 Several University of Louisville entities will join together with groups from throughout Louisville and the United States to commemorate the end of World War II, marked by the surrender of Japan on Aug. 14, 1945.
Following the success and popularity of the 2015 Spirit of '45 event, organizers are hosting the celebration for a second year to honor the legacy and service of the Greatest Generation.
In Louisville, the Spirit of '45 will take place at the Vintage WarBirds Hangar 5 at Bowman Field, 2700 Gast Blvd. On Saturday, Aug. 13th from 10 a.m. to 5 p.m., exhibits, demonstrations and entertainment will evoke memories of Louisville during World War II.
"The University of Louisville has been working to educate members of the military, veterans and their families since World War II, when we helped train officers in the V-12 program," said Renee Finnegan, UofL executive director of military initiatives. "Last year, we were named a 'Best for Vets' university because of our tireless work for those who have dedicated their lives to our freedom. We are honored to serve those who have served their country."
In appreciation of their service, veterans attending Saturday's event will have an opportunity to make an appointment for a complimentary dental exam and panoramic x-ray at the UofL School of Dentistry. Dental students also plan to provide oral health education at their booth.
The UofL Kornhauser Library will have a custom-made exhibit featuring memorabilia from the Schools of Dentistry, Medicine and Nursing from the WWII era. In addition, a number of UofL faculty and alumni plan to display their personal WWII memorabilia and model airplane collections.
UofL's Institute for Sustainable Health and Optimal Aging will provide information on healthy aging and living, along with opportunities to sign a participant registry for those interested in taking part in academic research projects. In keeping with the theme of aging well, the Institute also will raffle two basketballs – one signed by Hall of Fame coach Denny Crum and the other signed by Hall of Fame coach Rick Pitino. Tickets are $20 and $15 respectively, with the proceeds going to the Spirit of '45 Committee, to offset costs for next year's event.
Other presenters include the Kentucky Department of Veterans Affairs, and a variety of other veterans organizations. Vintage military equipment, vehicles and aircraft also will be on display. Admission is free, a $5 donation is requested for parking.
In the same location, from 6 p.m. to 10p.m., a "Canteen Dinner and Dance" will be held, featuring the Ladies of Liberty and the Don Krekel Orchestra performing big-band hits of the period, and a drawing to give four people a free ride in the UPS simulator. Admission is $50 per person.
For information on Saturday's events, contact the local Spirit of '45 office, 502-387-4412 or Dell Courtney, dellcourtn@aol.com.