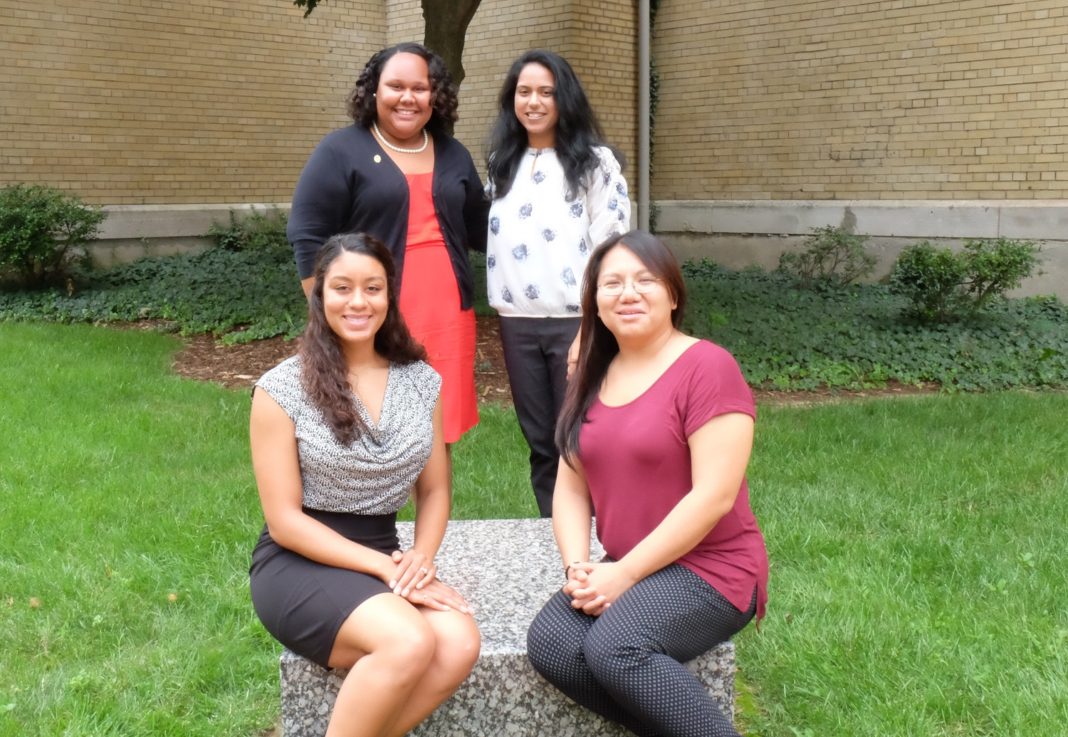 LOUISVILLE, Ky. – A future dentist wants to curb smoking rates. A future physician hopes to reduce underlying barriers to good health. A graduate nursing student plans to address the needs of the underserved. A doctoral student in epidemiology is seeking ways to improve people's health through public policy.
These four students from the University of Louisville schools of Dentistry, Medicine, Nursing and Public Health and Information Sciences are the university's first Health and Social Justice Scholars. The students have diverse backgrounds and distinct experiences, but they share a passion for helping people by not only caring for their individual health needs, but addressing the larger issues affecting health in society.
Through the Health and Social Justice Scholars program, introduced last spring, the students will work in the Louisville community to bring about changes to benefit underserved and disadvantaged populations. They will participate in public service and mentored scholarship projects to learn techniques for working interprofessionally and with community members to improve the overall health of the populations.
"The HSJS program is fundamental to our mission of impacting health disparities that are present in our communities and the nation," said V. Faye Jones, M.D., Ph.D., M.S.P.H., assistant vice president for health affairs – diversity initiatives at UofL. "This program, led by program director Dr. Katie Leslie, guides these four outstanding students on their career journey to develop the knowledge and the skill set that will be needed to be our future leaders of health equity."
The students receive annual financial support of $10,000 toward their education and are expected to continue in the program for three years. The first cohort of Health and Social Justice Scholars program includes:
Ashton Green – School of Dentistry
Born in Indianapolis, Green was an athlete throughout high school and as an undergraduate at Xavier University in Cincinnati. After graduating from Xavier in 2014, she dedicated the following year to serving in the Indianapolis community where she established a junior youth spiritual empowerment group to mentor youth ages 12-15 in developing a sense of responsibility to create positive change within their community through acts of service. Having lost family members to lung cancer and esophageal cancer, she hopes to spread knowledge that will reduce the number of Kentuckians who smoke.
Mallika Sabharwal – School of Medicine
As an undergraduate student at the University of Florida, Sabharwal volunteered at the Equal Access Clinic, a student-run free clinic providing medical care to underinsured communities in North Florida. To address non-medical barriers, she designed a social services resource manual for volunteers to refer to patients for services such as local GED classes and federal aid enrollment. Before starting medical school, she worked at the Chicago Department of Public Health through the CDC's Public Health Associate Program. There she worked in the school-based sexually transmitted disease program, which educated and tested high school students on the south and west sides of the city. She serves as the Public Health Coordinator for the national American Medical Student Association.
Jade Montanez – School of Nursing
While completing her B.S.N. at UofL, Montanez was involved in a research study about the relationship of sociodemographic characteristics with depression, anxiety and stress in African American adults with Type 2 Diabetes. She has worked as a Veteran's Affairs nurse and as a palliative care nurse. She has a passion for continued research and development of interventions to assist underserved populations with management of chronic illnesses.                
Diana Kuo – School of Public Health and Information Sciences
Born in Taiwan, Kuo immigrated to the United States with her family at age three and lived in New Jersey during her formative years. Prior to starting the Ph.D. program at UofL, she worked as a medical laboratory technologist for the State of North Carolina, UNC Healthcare, and the Department of Agriculture and Consumer Services. She also has experience working for an international health non-profit in Connecticut, developing activities for the organization in order to provide funding for medical and social services for Chinese orphans with special needs.
For more information, visit the Health and Social Justice Scholars web page.
About the UofL HSC Office of Diversity and Inclusion
The UofL Health Sciences Center Office of Diversity and Inclusion welcomes and embraces the community of students, faculty and staff. The office seeks to encourage and foster all constituents' growth and development to allow for everyone to be successful at UofL. By augmenting a culture and climate that demonstrate a belief that diversity and inclusion add value to intellectual development, academic enrichment, patient care, research and community engagement, the office intends to place HSC at the forefront of opportunity and innovation. Its mission is to conceptualize, cultivate and coordinate partnerships across the schools of Dentistry, Medicine, Nursing, and Public Health and Information Sciences by building organizational capacity and expanding leadership competency for HSC diversity and inclusion efforts. The office aspires to be a model for innovation for health equity driven by excellence in education, community outreach and research.