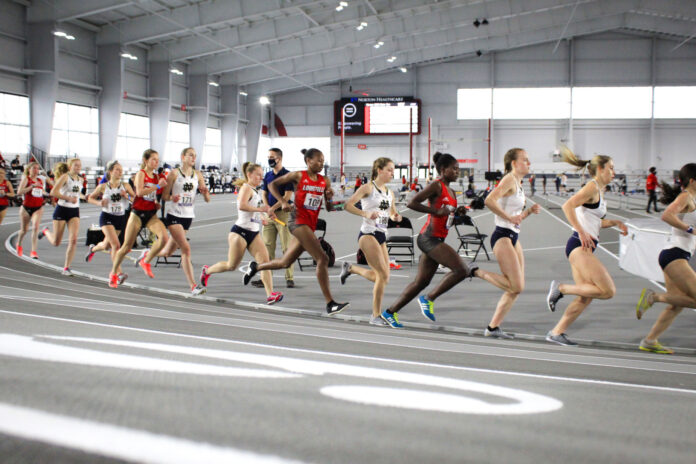 The University of Louisville track and field team's final meet before the ACC Indoor Championships is this week and it just happens to be held in a new, state-of-the-art facility designed to become a premiere stop in the region for the sport at all levels.
The soon-to-be-christened Norton Healthcare Sports and Learning Center boasts a space of 24 acres and a 90,000-square-foot floor with the capability of hosting a wide variety of events from youth track & field events to regional and national track meets in addition to volleyball games, concerts and more.
"What they're building is a world-class facility," said Louisville track and field head coach Dale Cowper. "They brought in representatives from USA Track and Field. … They've done it right from the very beginning, and it's certainly equipped at a very high level. It's going to be something that is much bigger than the city of Louisville."
A project spearheaded by the Louisville Urban League, the building is located in the heart of West Louisville, where it promises to serve as an economic boon. Cowper gave particular credit to Louisville Urban League CEO Sadiqa Reynolds for making the Norton Healthcare SLC a reality.
"Sadiqa has done an amazing job putting this together with the Urban League," Cowper said. "Her vision and her passion to find a way to really bring resources and business and economics into the west side of Louisville is second to none. She's done a tremendous job getting the facility put together."
The facility will comfortably hold 4,000 spectators for indoor track and field events, and it features a hydraulic floor that can be lowered to provide space and floor seating for non-athletic events.
Cowper said he's most impressed with the track itself, which was built to specs that will provide even the most elite of athletes with ample opportunity to perform at a high level.
"The 200-meter track has a great radius to it," he said, "Which, for those of us in the track community, it means you're going to run fast. And the field events are set up with tandem pits for the horizontal and vertical jumps. Having dual pits will make for larger competitive field capabilities as well as a more progressive flow to the competition."
Beyond track and field, the center also has the capability to serve as a community center with a 4-lane mini bowling alley, a rock-climbing wall and space dedicated for educational programming.
The Lenny Lyles Cardinal Invitational is just the first of many events that the UofL track and field program plans to hold there. Also, it will prove even more advantageous for the Cardinals during inclement weather conditions, much like those the city of Louisville is experiencing going into this week's meet.
"We hope to train there during the winter months as much as we can," Cowper said. "That's certainly the objective once we have access to it. We're going to do a lot of training there. Then, in the future, our goal is to host a couple of smaller competitions and then one larger competition there each year."
The Cardinals may be the first to host an event at the brand new facility, but it certainly won't be the last. In addition to collegiate events hosted by UofL, Cowper said the sky is the limit on what the Norton Healthcare SLC can bring to the city of Louisville.
"I think this can host any track and field competition," Cowper said, "NCAA Championships, USA Championships, youth championships, everything."
Photo by Natalie Uhl.