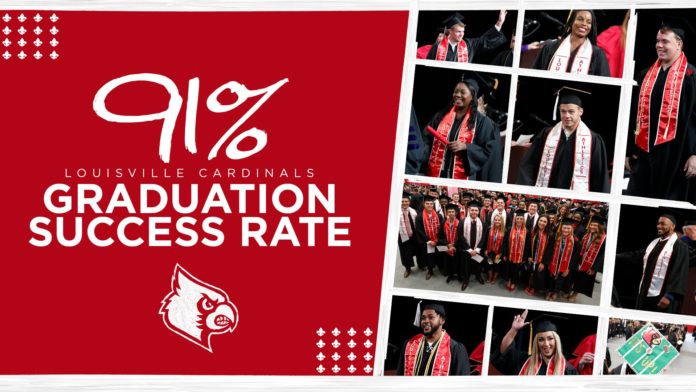 University of Louisville student-athletes achieved a record 91% graduation rate in the latest Graduation Success Rate Report. The Cardinals' GSR, most recently reported for freshmen who entered in the 2012-13 academic year, has risen 25% since the reporting began 15 years ago.
Seventeen sports attained a GSR above 85% in the most recent report, including baseball, men's and women's basketball, women's cross country, field hockey, football, men's and women's golf, women's lacrosse, women's rowing, women's soccer, softball, women's swimming, men's and women's tennis, women's track and field and volleyball. 
All UofL student athletes combined to produce an average grade point average of 3.0 or better for each of the last 17 straight semesters. Cardinal student-athletes achieved a collective 3.254 GPA combined for the Fall 2018 and Spring 2019 semesters.  
UofL's women's basketball, women's cross country and women's golf are among the top 10% in their respective sports in the latest figures for the Academic Progress Rate (APR), which measures academic eligibility, retention and graduation for student-athletes. UofL athletic teams posted 14 perfect scores in the most recent single-year APR.