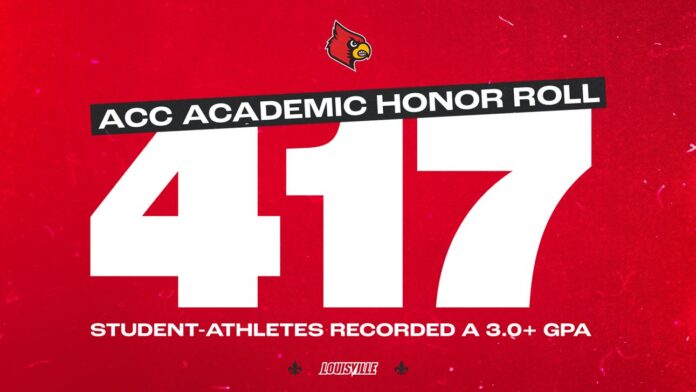 The University of Louisville Athletics Department placed 417 student-athletes on the Atlantic Coast Conference 2021-22 Academic Honor Roll released by the league on Friday.
 
The ACC Academic Honor Roll is comprised of student-athletes who participated in a varsity-level sport and registered a grade point average of 3.0 or better for the full academic year.
 
Louisville was one of six schools with more than 400 student-athletes earning recognition.
 
Women's soccer's Gabby Kouzelos was one of nine student-athletes conference-wide to make the ACC Honor Roll for the sixth time.
 
All UofL student athletes combined to produce an average GPA of 3.0 or better for the 23rd straight semester. Cardinal student-athletes achieved an impressive 3.256 collective GPA for 2022 spring semester.
 
In recent national graduation rates released by the NCAA, UofL student-athletes achieved a record 91 percent graduation rate to match the Cardinals' best mark in the Graduation Success Rate (GSR) Report.
 
Five Louisville athletic teams – men's and women's basketball, women's cross country, women's golf and volleyball – received public recognition through the NCAA Academic Performance Program for ranking in the top 10 percent in the 2015-19 most recent multiyear Academic Progress Rate scores, which measures academic eligibility, retention, and graduation for student-athletes.  Fourteen UofL programs produced perfect APR scores for the most recent single-year figures.
A full list of UofL's ACC Academic Honor Roll selections is available here.