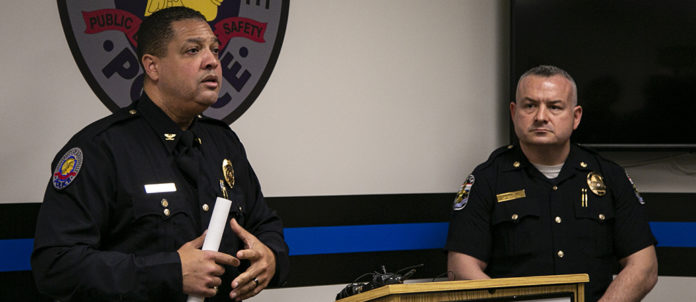 University of Louisville's Belknap and Health Sciences Center campuses are gaining an additional layer of security starting this week.
UofL's Police Department and Louisville Metro Police Department on Wednesday announced a partnership to help increase patrols and maximize safety on and around UofL's campuses.
ULPD Chief Gary Lewis recently reached out to the LMPD asking for some extra help due to concerns that have been raised by students and employees.
"In response, our officers have teamed up directly with UofL officers at focused times based on where the crimes were occurring. In addition, we tried to concentrate some more of our resources down to the (Belknap) campus area," LMPD 4th Division major Josh Judah said during a press conference. 
Lewis, who noted that "24-hour policing is very important," said one of his goals is continued education for the community. To achieve that goal, he is reminding those on campus about ways to decrease "opportunity thefts," by locking car doors and securing office doors.
For example, last year during a school break, the ULPD worked with the housing department to launch an initiative that encouraged students to bring their bikes inside while they were gone. Because of this work, bicycle thefts dropped from 15 to one.
"Seeing that type of education and partnership in looking at that data, we were successful with seeing a significant reduction in bicycle thefts," Lewis said. 
Lewis also encourages the UofL community to take advantage of various school resources, such as the safety escort service, which is available from dusk until dawn. In September 2018, the school launched a new, free shuttle option called Cardinal Cab for students seeking after-hours transportation across campus that operates between Monday through Saturday from 10 p.m. to 4 a.m.
Lewis said beyond adding more resources, the units are being strategic in their efforts. For example, at the HSC campus the department is evaluating data to hone in on peak hours for crimes and adjusting schedules on a weekly basis.
"Clearly the bottom line is to continually educate, high visibility, make the arrests, and send a message," Lewis said.