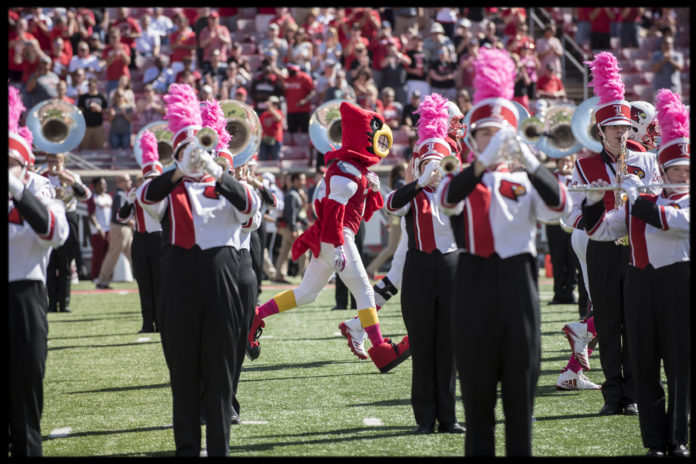 The University of Louisville placed 378 student-athletes on the annual Atlantic Coast Conference Honor Roll for the 2018-19 academic year, the league announced on Tuesday.
The honor roll is comprised of student-athletes who participated in a varsity level sport and recorded a grade point average of 3.0 or better for the full academic year. The conference recognized a record 4,769 student-athletes for their excellent work in the classroom.
The Cardinals' 378 honorees ranked as the sixth-highest total among any school in the league. Louisville had 364 student-athletes recognized a year ago.
Below is the list of Louisville's 2018-19 ACC Honor Roll selections:
Baseball
Glenn Albanese
Andrew Benefield
Nick Bennett
Ben Bianco
Alex Binelas
Tim Borden II
Zach Britton
Drew Campbell
Henry Davis
Reid Detmers
Austin Dickey
Lucas Dunn
Adam Elliott
Tyler Fitzgerald
Bryan Hoeing
Michael Kirian
Justin Lavey
Trey Leonard
Carter Lohman
Cameron Masterman
Michael McAvene
Ben Metzinger
J.D. Mundt
Danny Oriente
Jack Perkins
Zeke Pinkham
Jared Poland
Pat Rumoro
Garrett Schmeltz
Jake Snider
Gavin Sullivan
Danny Zimmerman
Men's Basketball
Akoy Agau
Wyatt Battaile
Christen Cunningham
Steven Enoch
Jo Griffin
V.J. King
Ryan McMahon
Jordan Nwora
Darius Perry
Jacob Redding
Malik Williams
Women's Basketball
Alexis Barlow
Arica Carter
Asia Durr
Lindsey Duvall
Dana Evans
Sam Fuehring
Jazmine Jones
Jessica Laemmle
Molly Lockhart
Seygan Robins
Mykasa Robinson
Kylee Shook
Cross Country
Michelle Appel
Chandler Austin
Bailey Beery
Emmanuel Cheboson
Bailey Davis
Lindsey Fanz
Caroline Gosser
Brittney Hansen
Matthew Harper
Ryan Johnston
Albert Kosgei
Justus Kurgat
Kansas MacKay
Lauren Radenhausen
Cameron Stephens
Dorcas Wasike
Aurilla Wilson
Abigail Wright
Field Hockey 
Elizabeth Allgeier
Carter Ayars
Hollyn Barr
Allison Bitting
Erica Cooper
Maria Gomez
AnnMarie Habelow
Mackenzie Karl
Ayeisha McFerran
Samantha Minrath
Whena Munn
Mercedes Pastor
Camryn Pichea
Bethany Russ
Katie Schneider
Meghan Schneider
Taylor Stone
Katie Walsh
Madison Walsh
Football
Jacob Ables
Christopher Avery
Robbie Bell
Ryan Chalifoux
Marlon Character
Blanton Creque
Hunter Crowe
Seth Dawkins
Jack Fagot
Jared Goldwire
Taven Graves
Mitch Hall
Austin Johnson
Josh Johnson
Mason King
Dayna Kinnaird
Brendan Lowery
Max Martin
Luke Massad
Thomas Nauert
Evan O'Hara
Nathan Scheler
Clayton Six
Damien Smith
TreSean Smith
Wyatt Smock
Malik Staples
Jordan Thomas
Dae Williams
Jakson Wine
Men's Golf
Keegan De Lange
Trevor Johnson
Devin Morley
John Murphy
Hugh O'Hare
Matthias Schmid
Simon Zach
Women's Golf
Margot Bechadergue
Olivia Cason
Lauren Hartlage
Mairead Martin
Meghan Nay
Delaney Shah
Lauren Thibodeau
Linda Trockel
Women's Lacrosse
Allie Arcidiacono
Lexi Arens
Lexie Ball
Maddie Birch
Caroline Blalock
Sarah Blalock
Tessa Chad
Shay Clevenger
Kelly Coughlan
Ally Hall
Kayla Marshall
Alex McNicholas
Hannah Morris
Cassie New
Kirsten Parker
Kristen Pezzullo
Mason Plymire
Paige Richbourg
Abby Roskovich
Jen Schaaf
Brenna Shanahan
Sarah Stratton
Rowing
Heidi Anderson
Claire Bahain
Katie Beiler
Mallory Burnett
Gillian Burns
Megan Burns
Tara Carr
Emily Corso
Abigail Davies
Olivia DeNiro
Kimberly Dil
Madeline Dodd
Michaela Dukes
Claudia Figueiredo
Abigail Fitts
Margaret Geraghty
Victoria Goldin
Grace Herbert
Perie Howard
Haylee Judge
Riley Kerber
Anna Kiser
Jordan Kraski
Megan Lee
Violette Legrand
Maddie Luette
Caroline Lynch
Ainsley Mattingly
Madison Meister
Misia Partyga
Caitlyn Pike
Morgan Senogles
Audrey Sholiton
Samantha Stoll
McKenzie Sweeney
Sarah Thurson
Eliza Wack
Brynne Walchle
Emmy Wuensch
Men's Soccer
Elijah Amo
John Armbruster
Liam Bennett
Connor Brazil
Cody Cochran
Lamine Conte
Chris DeMartino
Cherif Dieye
Jake Gelnovatch
John Hickey IV
William Howard
Louka Masset
Will Meyer
Tate Schmitt
Cameron Wheeler
Adam Wilson
Women's Soccer
Ravin Alexander
Cassie Amshoff
Lana Batson
Kennadi Carbin
Emina Ekic
Morgan Everett
Sarah Feola
Arianna Ferraro
Bailey Florek
Anna Henderson
Sarah Hernandez
Sanela Hodzic
Amari Hopkins
Morgan Jackson
Taylor Kerwin
Kiana Klein
Emily Knepler
Gabby Kouzelos
Nadege L'Esperance
Callie McKinney
Niamh Nelson
Taylor Nuncio
Kiley Polk
Brooklynn Rivers
Delaney Snyder
Gabrielle Vincent
Allison Whitfield
Maisie Whitsett
Hanna Wise
Softball
Blaire Bass
Rebecca Chung
Madison Cousineau
Caitlin Ferguson
Celene Funke
Cassady Greenwood
Megan Hensley
Sidney Melton
Maddy Newman
Paige Schindler
Riley Schindler
Danielle Watson
Erin Wilbur
Swimming & Diving
Santiago Aguilera
Nicolas Albiero
Mariia Astashkina
Abel Aulbach
Clara Baggett
Andrej Barna
Graham Barrett
Avery Braunecker
Sophie Cattermole
Mallory Comerford
Tanner Cummings
Hayden Curley
Mihalis Deliyiannis
Diana Dunn
Michael Eastman
Casey Fanz
Molly Fears
Daniel Fecteau
Keegan Foulke
Morgan Friesen
Nastja Govejsek
Joseph Hampel
Zach Harting
Anika Holland
Rachel Howard
Maggie Jahns
Lauren James
Alina Kendzior
Mate Kovacs
Alena Kraus
Elizabeth Lambert
Grace Long
Carley Lowe
Sophia Middendorf
Emily Moser
Grace Oglesby
Colton Paulson
Brianna Price
Sean Riley
Derek Sander
Ashlyn Schoof
Kaitlyn Schorr
Anderson Sellers
Michaela Sliney
Theodore Smith
Nikolaos Sofianidis
Daniel Sos
Samuel Steele
Thomas Stewart
Kelly Tichenor
Sofie Underdahl
Lainey Visscher
Kaylee Wheeler
Kyle Worrell
Men's Tennis
Clement Filho
Federico Gomez
George Hedley
Brandon Lancaster
David Mizrahi
Fredrik Moe
Christopher Morin Kougoucheff
Juan Paredes
Fabien Salle
Alejandro Wesbrooks
Women's Tennis
Dina Chaika
Nikolina Jovic
Aleksandra Mally
Raven Neely
Maya Smith
Sena Suswam
Diana Wong
Track & Field
Angel Amadi
Alivia Ash
JoKenia Bond
Christian Buckley
Carsen Cassell
Dwayne Depp
Victoria Farley
Daniel Fiedler
Daniel Fleace
Makenli Forrest
Philip Frank
Alexis Gibbons
Holly Hankenson
Kelsey Heyward
Sydney Hill
Halee Hudson
Emma Ison
Marcus Jegede
Kameron Jones
Nika Karpenko
Rohan Kaushal
Mitchell Kessler
John Kolb
Gabriela Leon
Clay Moss
Luke Nichols
Gabryella Pinnow
Lilli Popovich
Brooke Raglin
Tron Talton
Skyler Vanmeter
Addie Wanner
Aliyah Welter
Morgan Zacharias
Volleyball
Jasmine Bennett
Amanda Green
Alexis Hamilton
Aiko Jones
Brianna Lester
Anaya Martin
Melanie McHenry
Kelly O'Neil
Natalie Palastro
Piper Roe
Wilmarie Rivera Roldan
Molly Sauer
Emily Scott
Megan Sloan
Michaela Stander
Marijke Van Dyke
Akela Yuhl