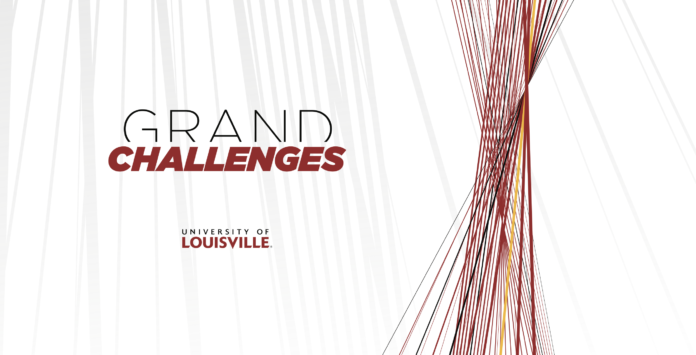 As part of its strategic plan to make the University of Louisville a great place in which to invest, it was announced last year that UofL would throw its research and scholarship weight behind solving three "Grand Challenges" – Empowering our Communities, Advancing our Health and Engineering our Future Economy.
Since that announcement, UofL has moved quickly to support this work and the researchers who make it happen, including adding new programming, tools and strategic hires.
"These Grand Challenges represent some of the biggest, global problems of our time," said Executive Vice President for Research and Innovation, Kevin Gardner. "To solve them, we need to build a solid foundation."
Researchers are the very bedrock of that foundation. As such, throughout the past year, the UofL Office of Research and Innovation has expanded or launched programming aimed at celebrating and supporting researchers and their work in the Grand Challenges. That work is now the focus of the office's monthly Research and Innovation Town Halls, where UofL researchers can share their projects and find collaborators.
This year, the office, in partnership with the UofL College of Arts & Sciences, Office of Diversity and Equity and ATHENA program, also launched a new program called Ascending Stars that provides mentorship, funding and other support to high-performing associate professors who focus on work in diversity, inclusion and Empowering our Communities.
Also this year, the office's annual EPIC Innovation Awards celebrating UofL inventors introduced a new category called "Trailblazers," in addition to its namesake EPIC Innovator award. The collective works of the innovators honored represent all three Grand Challenges.
Other efforts have focused on giving researchers better tools. UofL recently selected a new Electronic Research Administration system called Cayuse meant to minimize the administrative burden of conducting research and facilitate the growth of UofL research programs. Among other things, the system's suite of tools will allow researchers to more easily find and secure funding, manage awards and more. And, a new tool called ORCiD will allow researchers to more easily track and manage their publications.
UofL also has made several strategic hires aimed at supporting the Grand Challenges and UofL's overall research and scholarship. The Office of Research and Innovation recently hired Dave Calzi, an alum of Ernst & Young, to lead industry partnerships, serving as a point of contact for companies looking to engage across the university.
UofL also hired Will Fortune as the university's program director for the National Security Innovation Network, where he'll work with researchers, entrepreneurs and the defense industry to solve security problems. Also, a new director of research development will help UofL researchers find and secure more funding to back work in Grand Challenges areas.
Gardner's office also promoted Will Metcalf to a new role as associate vice president for research development and partnerships, where he'll oversee initiatives aimed at growing UofL's research funding, develop programs that translate UofL discoveries for the public good and work to further the university's strategic relationships. This includes UofL's strong relationship with the Louisville Healthcare CEO Council, with which we're already working to advance our health through widespread COVID-19 testing and engineer our future economy by developing Louisville's entrepreneurial ecosystem.
Gardner believes these new efforts will help to accelerate UofL's already strong research in Grand Challenges focus areas. He cites several big recent successes, including UofL's first public benefit corporation spin-out (empowering our communities), a UofL cell therapy startup successfully completing its $150 million IPO (advancing our health) and a first-of-its-kind innovation partnership with Louisville Muhammad Ali International Airport (engineering our future economy).
Last year, research in Grand Challenges areas was backed by $170 million in competitive research funding, making 2019-2020 UofL's best year on record, and nearly $200 million in research expenditures. That year was also UofL's best for commercialization income — research-born inventions earned $9.4 million from license royalties and other related income, a 30% increase over the year prior.
"We're already doing amazing work in each of these areas," Gardner said. "The goal here is to give researchers the tools and support to help catalyze and expand their efforts and their impact on our community, state and even the world."