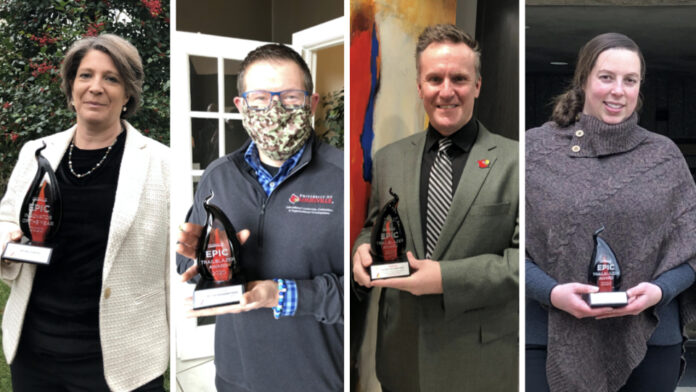 University of Louisville researchers and innovators love a good challenge. And in 2020 — a year of challenges — they continued pushing forward, creating and commercializing groundbreaking technologies that can improve the way we work and live. They were recognized for those contributions at the presentation of the second annual EPIC Innovation Awards, held January 28. 
"Innovation is absolutely critical to UofL's mission," said UofL President Neeli Bendapudi. "It's what drives us and inspires us. Our three most important goals as a university are to be a great place to learn, to work and to invest, and the work of these innovators contributes to all three." 
The second annual event, hosted virtually this year by the Office of the Executive Vice President for Research and Innovation and its technology transfer arm, the Commercialization EPI-Center, honored UofL innovators who had recently been awarded a patent or whose technology had been licensed to a company for commercialization in fiscal year 2020, which ended June 30, 2020. 
Two large awards were also presented: Paula Bates was given the Innovator of the Year Award, and Theo Edmonds, Brad Shuck and Laura Weingartner all accepted Trailblazer awards on behalf of their teams. Each was delivered a red-and-black glass flame — the symbol for the event.
"Our office, and UofL as a whole, are committed to taking the brilliant, groundbreaking research happening on our campus out of the lab, out of the classroom, and translating it into inventions and products that improve the way we work and live," said Executive Vice President for Research and Innovation, Kevin Gardner. "And, this past year, our researchers worked tirelessly to develop innovations that in a very real way, may save lives — all while dealing with the added challenges of COVID-19." 
Innovator of the Year, Bates, is a serial inventor and cancer researcher, known for a long track record of developing strong partnerships with industry to commercialize her technologies. In 2020, she partnered with other UofL innovators to develop a potential breakthrough in our fight against COVID-19 that is believed to block the virus from infecting human cells. The technology was licensed to a now publicly-traded biomedical company, which is working with UofL to further develop it for market.
Bates also has a history of helping others innovate, including via the recently launched
KYNETIC
program, an NIH REACH-hub, which focuses on training, mentorship and funding to help get technologies from lab to market. 
As for the Trailblazers, who are awarded for work in new areas of innovation for UofL, Edmonds accepted the award for the Cultural Wellbeing Index, a tool that helps companies improve corporate culture and organizational wellbeing. To commercialize the technology, Edmonds launched UPOP, UofL's first-ever public benefit corporation spin-out.
Shuck accepted for the Employee Engagement Scale, a software that helps companies measure workforce engagement. The technology's non-exclusive license to startup Unitonomy marks the first license out of the UofL College of Education and Human Development — followed by the second and third, also secured by Shuck, when the technology was licensed to two other companies in the same year.
Lastly, Weingartner accepted the award for "The eQuality Toolkit: Practical Skills for LGBTQ & DSD-Affected Patient Care," a first-of-its-kind manual aimed at better-training future medical professionals on caring for LGBTQ and other non-normative patients. The manual is meant to provide resources and guidance so that medical schools, residencies and continuing medical education programs across the country are able to implement training and provide better resources for more equitable care.
All told, fiscal year 2020 was the best on-record for innovation at UofL, with a total income of $9.4 million driven by a strong year for startups and deals. It also was UofL's best year on-record for competitive research funding, with total new awards of $170 million.
"This was a great year for innovation and research — also our best year on record," said Allen Morris, executive director of the Commercialization EPI-Center. "Our innovators all share in that success, and I look forward to continuing that work together in 2021."