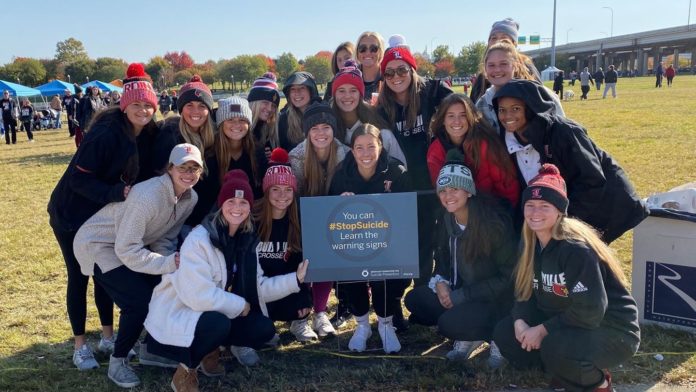 The University of Louisville athletics department was named the winner of the 2019-20 NCAA Team Works Award Competition for outstanding community service in Division I. This marks the second time the Cardinals have won the award in the six years of the competition.
"We are incredibly proud to be as highly ranked in community service as we are in athletics," said Vince Tyra, director of Athletics. "We have great leaders in our athletic department that provide our student athletes an opportunity to give back to so many causes in the Louisville community. Our student athletes love giving back and are learning a great deal while doing so."
 
NCAA Team Works, which coordinates community service efforts at NCAA championships, and Helper Helper, a volunteer management and tracking platform, launched the community service competition to recognize student-athletes who give back to their communities. Winning schools' victories are decided based on the number of service hours completed and participation of student-athletes.
 
This is the sixth annual NCAA Team Works Helper Helper Community Service Competition award, with all Divisions I, II and III participating. 
 
"Engaging in community service provides student athletes with the opportunity to become active members of their community and has a lasting, positive impact on society at large," said Jazmine Jones, UofL Women's Basketball player and SAAC vice president. "Community service enables students to acquire life skills and knowledge, as well as provide a service to those who need it most. Here at Louisville, community service is much bigger than the sport of the student athletes because it means a lot to us and we take it serious to become positive role models to kids in the community."
 
Louisville, which has ranked in the top five for service all six years of the competition, accumulated 6,827 service hours by 718 student-athletes during the fall semester. As a whole, the department averaged 9.5 hours per student-athlete, as UofL teams partnered with 98 nonprofit organizations over the course of the semester. The top four partners included: Jefferson County Public Schools, Score International, Norton Children's Hospital, and Louisville Ironman.
 
The Cards Come Together event saw 165 student-athletes volunteer their time. The baseball team led the department averaging 25 hours per student-athlete. The lacrosse team ranked highest among the women's teams, averaging 20 hours per student-athlete.
 
Individually, 87 Louisville student-athletes contributed at least 20 hours over the course of the semester. Additionally, 221 student-athletes volunteered at least 10 hours during the semester.