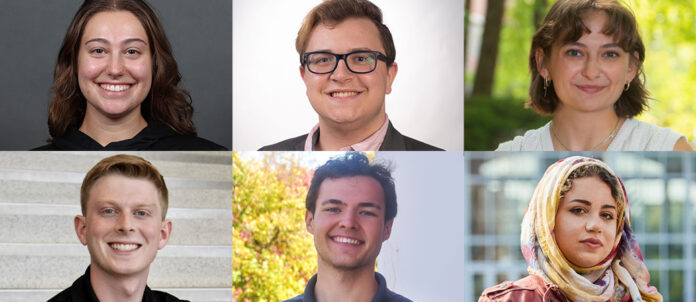 The grantees named this spring add to an impressive list of winners. With 168 total since 2001, UofL has had more student Fulbrights than all Kentucky public higher education institutions.
The UofL Fulbright winners were awarded grants to teach English abroad in the Slovak Republic, Spain and Jordan and to do research in Germany and the Netherlands.
The 
Fulbright Program
, administered by the Department of State's Bureau of Educational and Cultural Affairs, is the U.S. government's flagship international educational exchange program.
"This year's scholars have earned opportunities here and abroad that will change their lives and help them make a positive difference," said Bethany Smith, director of UofL's National & International Scholarships office. "I am so proud of these talented and hard-working young people, and of the way our campus community comes together to support, challenge and mentor these outstanding students."
The 2023 Fulbright awardees are:
English Teaching Assistantships
Eli Cooper
, UofL 2022 graduate, to the Slovak Republic. He is from Owensboro, Kentucky.
Rawan Saleh
, UofL 2023 graduate, of Louisville, to Jordan, the country from which her family emigrated when she was in sixth grade. 
Research
Madison (Maddy) Cicha
, UofL 2023 graduate, to the Netherlands to pursue a master's degree in conservation and restoration ecology at Radboud University/Nijmegen. Cicha, two-time captain of the Women's D1 Rowing team, is from Cherry Hill, New Jersey. 
Bryan McLellan
, UofL 2023 graduate, to Germany to develop a novel blood pump for pediatric and adult patients with heart disease at the Rhine-Westphalia Technical University of Aachen. McLellan is from Lexington, Kentucky.
Other prestigious scholars
UofL chemical engineering major 
Klemmer Nicodemus
 won two prestigious scholarships for juniors. 
Additionally, two UofL students were the first recipients of awards that debuted for 2023.
Afi Tagnedji
, a May 2023 graduate in biochemistry, was one of 25 students in the United States awarded the first 
Quad Fellowship
. The fellowship, which focuses on building a network of the next generation of scientists and technologists, was awarded to 100 students total from the United States, Japan, Australia and India. She was the only fellow from a Kentucky university.
Mery Muluberehan
, a political science major, was 
one of two
 Kentucky college students to be named to the inaugural cohort of 100 students who won a 
Voyager Scholarship
 from the Obama Foundation and Brian Chesky, CEO of Airbnb. 
More on these scholars and winners of other prestigious academic scholarships can be found at 
louisville.edu/scholars
.