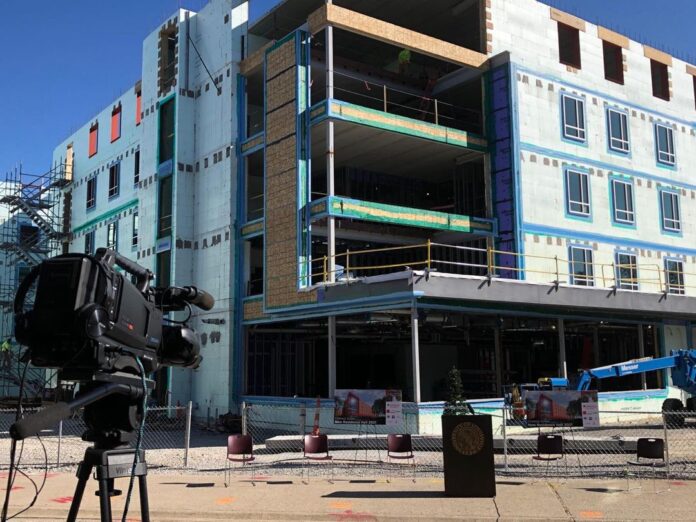 A new UofL student residence hall is one step closer to opening day.
The hall's topmost beam was hoisted into place Nov. 17 in a "topping off" ceremony, a major milestone toward completion of the five-story, 452-room facility expected to open for the fall 2021 semester.
"This residence hall is pretty special," said UofL President Neeli Bendapudi. "Students influenced the design and the features. This is the most student-driven residence hall that we've ever built and it is right in the heart of campus."
The structure is one of two new halls planned for the Belknap Campus. The halls replace the aging Miller and Threlkeld halls and herald the university's ongoing strategy to boost student success by creating a modern, inviting and inclusive campus environment.
As traditional residence halls — which are typically occupied by first-year students — planners took extra measures to make sure students would feel at home and thrive in the new spaces.
Grace Beebe, a student and president of the Residence Hall Association, believes the buildings are a move in the right direction.
"This will be a significant change for what it means to live in a traditional hall and it's going to contribute to taking UofL to the next level for providing a great residence experience," she said. "There are several living, learning communities and themed communities in these halls and the new halls, being traditional, will be one of the most cost-effective ways to live on campus."
Student Government Association Vice President Henny Ransdell had high praise for some of the important details that were incorporated into the new halls.
"With gender-neutral bathrooms, LEED certified sustainable construction, accessibility in student workspace and new lactation facilities, the new hall was carefully designed to promote the well-being of all student communities and a welcoming community for everyone," said Ransdell.
A vision for these enhanced student living spaces emerged several years ago, said Dean of Students Michael Mardis.
"We've been intentional about creating facilities — academic facilities, student activity facilities, recreational facilities and housing facilities — that support students so they can thrive. We want every student to have a place to belong. These new facilities help us do that and to be ready for that next generation of Cardinals," he said.
One of the most significant features of the 2021 hall is its adjoining Cultural and Equity Center.
Bendapudi said that when she met with students at the Cultural Center shortly after she became UofL president, they explained that talk of a new Center had been an ongoing discussion for years.  
"That conversation had to stop and action had to begin," Bendapudi said. "We made a commitment that this center would go up. I'm glad to see it come to fruition and help us in the goal to become a premier anti-racist metropolitan research university."
The Center will bring several units under one roof, according to Faye Jones, who heads the Office of Diversity and Equity.
"We are engaged in a holistic approach by creating a space that brings our diversity units together," Jones said.  "The Cultural and Equity Center will serve as home for the Cultural Center, the Office for Diversity Education and Inclusive Excellence, the LGBT Center, the Muhammed Ali Institute for Peace and Justice and the Women's Center. Sharing space facilitates our ability to collaborate and provide resources."
The Center is expected to open for the fall 2021 semester in tandem with the new residence hall.
"Nothing is more important to me than student success," said Bendapudi. "That is at the heart of everything we do at this university and I'm looking forward to this building and these facilities continuing to play a very important role in fostering our student success."