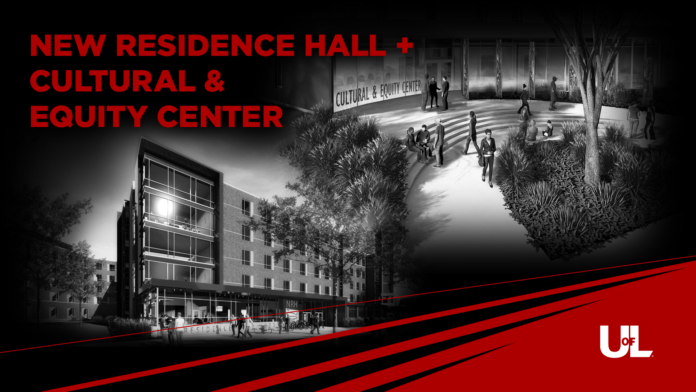 The heart of UofL will look significantly different by the end of the 2022 school year as two new, yet-to-be-named dorms open their doors to on-campus students. 
The updated residence halls will replace Threlkeld and Miller halls, both built in the 1960s. UofL expects to spend around $71 million on the project using tax-exempt bonds.
The new state-of-the-art dorms are part of a broader commitment to provide students with a safe, supportive and enriching environment in which to learn and live. One of the new halls will be adjoined by UofL's new Cultural and Equity Center, which will be accessible to all students via the building's exterior.
This continued transformation of campus is undoubtedly exciting, ushering a new era of student experience and campus revitalization. However, what's particularly remarkable about this specific project is that the new residence halls were designed with a significant amount of input from students. In fact, students have been involved since the project began, before the contractors were even chosen.
That student involvement is facilitated by Grace Beebe, president of the Residence Hall Association, and Henny Ransdell, vice president of services for the Student Government Association. Both attend meetings at least twice a week with Campus Housing and the construction company (Messer) and both took over after their now-graduated predecessors – Natalie Middleton and Lydia Burns, respectively – started the process in the same roles.
"Lydia and Natalie did a lot of the early work, helping to pick out the construction company, for example. They got a vote to pick the architects and contractors and that was important because they were able to lay the foundation on what the student priorities were," Ransdell said.
Among those priorities are gender-neutral bathrooms and at least a LEED Silver rating. That rating indicates the building was constructed and designed with sustainability features in mind; features like electric charging stations for cars and efficient heating and cooling systems.
And, most colleges are moving away from communal bathrooms, Beebe said, adding that this detail is an important piece of the overall student experience.
"When you talk about someone's living experience, this will make it so much more pleasant," she said. "It will monumentally change people's experiences as freshmen and it will put the university on a path to be even more inclusive and fluid."
While LEED certification and inclusive and private bathrooms may seem a bit high level, the students have been involved in decisions as granular as the furniture. In September, Campus Housing held a furniture fair to gain student feedback on some of these details, and Ransdell and Beebe were in charge of compiling that input to ensure students' feedback was put into action.
"Having students' voices involved in this process is so important and the feedback we have provided on behalf of our students have actually resulted in changes in plans for the building — things like better study spaces, spaces that are more visually appealing. We have told the contractors that students don't really use this anymore, for example, or that they might benefit from having a whiteboard here or some signage there. They're willing to take that younger, fresher perspective," Beebe said.
Those discussions have drilled down as far as the desks and the carpet.
"I remember one day having a long conversation about carpet. And we were able to share how we use our desks so maybe they weren't so clunky," Ransdell said. "We're getting so much say in these things and it varies every day. I truly feel that our opinions are valued."
Aside from providing input at the furniture fair, students have been filtering their feedback up to Beebe and Ransdell through RHA or SGA meetings, service email accounts and general forms.
"We have tried to be very open and take in that feedback from any student who is willing to provide it and I think because of that, we've had a lot of impact on the design of these buildings," Beebe said. "We would hear an idea, talk about it and then take the idea to (housing and the contractors) and they would make it work for students. Right off the bat, we knew we could make this project better."
Both Beebe and Ransdell also believe the new dorms will make UofL better overall. For starters, the buildings will be more sustainable, inclusive and modern. But most importantly, they'll be accessible.
"These are our entry point dorms and they will house a lot of freshmen who might not be able to scale up to the cost of our apartments," Ransdell said. "We want to have a really great space that is also affordable for a lot of families. It's going to provide a better experience for our students at a more accessible price point, so families won't have to feel burdened."  
New dorms will house a new Cultural and Equity Center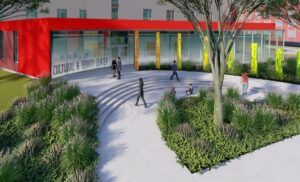 Another priority for the students is making sure that new Cultural and Equity Center is done right. The center will house the Cultural Center, the office of Diversity Education and Inclusive Excellence, LGBT Center, Muhammad Ali Institute for Peace and Social Justice and the Women's Center – all under one roof for the first time in UofL history.
"This is an important piece of the university's fabric and we need to make sure our students have a home that is individually theirs and not just something in the corner of a bigger space," Ransdell said. "We are making sure it's a dignified space they deserve."
Features include a student lounge, conference rooms, a training room, resource library, student work area, student activity space, kitchen, barrier-free restrooms and a lactation room.