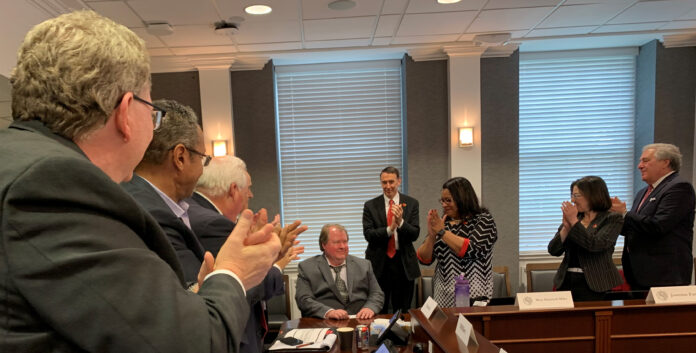 As the academic year winds down, there have been several opportunities to congratulate the University of Louisville's future alumni as well as the dedicated faculty and staff who facilitate their matriculation. In keeping with that spirit, the order of business for the April 2022 University of Louisville Board of Trustees meeting was filled with several notes of celebration.
Mark Running, a professor of biology in the College of Arts and Sciences, was at the meeting to accept the 2022 University of Louisville Trustees Award. The UofL Board of Trustees established the $5,000 award in 1989 to honor faculty who individually impact the future of our students. The award is the highest honor a UofL faculty member can receive.
Read more about 2022 Trustee Award winner Mark Running in UofL News.
Also present at the meeting was Senior Associate Athletic Director Marvin Mitchell, recipient of the George J. Howe Distinguished Staff Award. Mitchell received the award for his contributions as an extraordinary UofL staff member who exemplifies the traits of its namesake George J. Howe (humility, generosity and excellence in leadership) as well as the Cardinal Principles. The Howe Award is the highest honor bestowed upon a UofL staff member.
Read more about 2022 George J. Howe Distinguished Staff Award winner Marvin Mitchell in UofL News.
Student success was also on the meeting docket. Senior Vice Provost Gail DePuy was on hand to provide an overview of the university's mentored scholarship programs. Thirty-seven students across the four mentored scholarship programs will graduate this May: McConnell Scholars (10), Grawemeyer Scholars (10) Brown Fellows (10) and MLK Scholars (7). In addition to monetary awards, these scholarships have significant programming components which can include travel, leadership, service, research and more.
In other business:
Trustees approved revisions to the Parental Leave Policy following input solicited from the Commission on the Status of Women, the Commission on Racial Diversity and Equity as well as the Faculty and Staff senates. The policy grants six weeks of paid parental leave in connection with the birth or adoption of a child of the employee or of the qualifying adult. The revised policy allows for regular full-time or regular part-time employees whose status is at least 0.40 FTE to be eligible for the benefit upon the date of hire.
Board Chair Mary Nixon announced that WittKiefer is the firm that will facilitate the search for a new university president. The firm will work with the 13-member presidential search committee, which was also formally named at the meeting. The committee, chaired by Trustees Vice Chair Raymond Burse, is comprised of the following individuals:
Jerry Abramson, Trustee
Scott Brinkman, Trustee
Raymond Burse, Trustee, Chair of Search Committee
Riece Hamilton, Staff member, President of Black Faculty and Staff Association
Alice Houston, Louisville Community Representative and Business Owner
Dr. Christopher Jones, Professor in Dept. of Surgery, Physician at UofL Health
Diane Medley, Trustee and Alumna
Ugonna Okorie, Trustee and Student Representative
Diane Porter, Trustee
Jim Rogers, Trustee and Alumnus
Aaron Rollins, Professor & Chair in Dept. of Urban and Public Affairs
David Schultz, Trustee and Faculty Representative
John Smith, Trustee and Staff Representative
Interim Provost Gerry Bradley provided an update on the timeline to fill vacant dean positions. The search for the new dean of the College of Arts and Sciences will take place in the summer of 2022, and the search for the new dean of the Raymond A. Kent School of Social Work and Family Science will take place in the fall of 2022.
Senior Associate Athletic Director Marvin Mitchell and Hana Ryskova, a junior who plays on the women's golf team, asked the trustees for their feedback on who should be the university's next athletic director. Mitchell and Ryskova serve on the athletic director planning committee and organized several listening sessions on the matter for the university. In response to questions about expectations, challenges and qualifications, trustees noted the necessity to efficiently manage a high-profile, tier-one athletic program amid impending NCAA investigation results and do so with a strong moral compass as well as an understanding of the ever-changing landscape of college sports.
Trustees approved the Endowment Match Program (a.k.a "Bucks for Brains") combined 2020 and 2021 Annual Report. Since 1998, funding from the Endowment Match Program has been used to support 89 endowed chairs and 18 endowed professorships. Additionally, 54 fellowships and mission support projects have been created under the program to support research at UofL. Endowment Match Program executive summaries are located on the Bucks for Brains webpage. Highlights from the annual report include:
Matching public dollars with private donations, the program generated a total of $234.4 million at UofL, providing a perpetual source of funding for UofL research activities.
During fiscal year 2020-21, awards of external research grants and contracts resulted in a $169 million contribution to the Kentucky economy.
During fiscal year 2020-21, there were 19 endowments supporting graduate fellowships. As a single endowment may support multiple student awards, 127 graduate students received support from endowment proceeds.
University of Louisville Research Foundation officers were elected for 2022-23. They are: James Rogers (chair), Diane Porter (vice chair), Diane Medley (treasurer), Larry Benz (secretary) and Jake Beamer (assistant secretary).
University of Louisville Research Foundation Executive Director and Chief Operating Officer Keith Sherman presented the foundation's financials for the eight months ending Feb. 28, 2022. Sherman reported that the foundation's fiscal health remains strong. Total assets of the foundation remain more than $1.1 billion with the main endowment pool's market value at $864 million. The foundation has recorded more than $74 million in total revenues during the eight-month period, which has exceeded its budget by 15%.
Dan Durbin, UofL's executive vice president of finance and chief financial officer, gave a financial update for Fiscal Year 2022 through Feb. 28, 2022. Revenues and expenses were up compared to February 2021. So far, revenues for FY 2022 are $116,510,000 more than expenses with an increase in net position of $30,576,000 compared to February 2021.
UofL Health CEO Tom Miller reported that the health system continues to meet its objectives and is financially sound. Operating revenues are currently at $1.392 billion (14% above the previous year), and net income is $66,902,210 (63.4% above the previous year). Miller also reported that the number of COVID-19 patients decreased from its highest number (262) in January to about 20 patients per day. The decrease has prompted the change in visitation policies to get back to normal operations. Finally, since the UofL tuition remission was extended to UofL Health employees in January, there have been 87 applicants to the program.
"We expect to have as many as 500 team members take advantage of this program," said Miller. "This benefit differentiates our health systems from others."
James Begany, vice provost for enrollment management, Carrye Wilkins, associate director of the UofL Resources for Academic Achievement (REACH) program, and UofL student Rawan Saleh presented an overview on the benefits of REACH. The program serves as the university's centralized academic support unit for undergraduate students. Its goals are to enhance or improve students' academic performance, help students transition to college life and support the university's retention of undergraduate students. Saleh, a first-generation immigrant from Jordan, credits the program's many resources for her ongoing academic success. 
Minutes to the UofL Board of Trustees meetings are available on the trustees webpage.