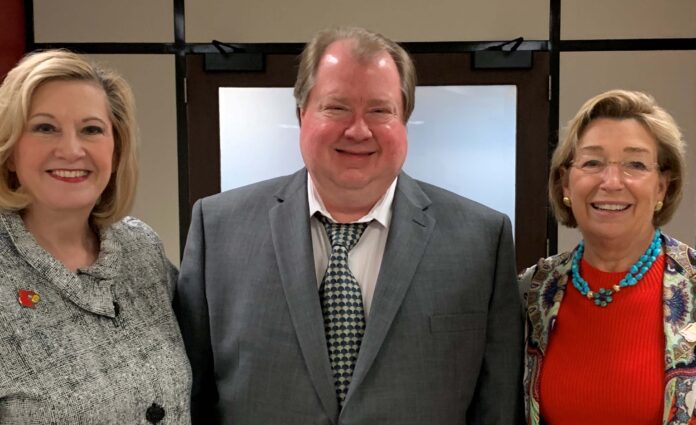 University of Louisville faculty commit to unleashing students' potential and preparing them for their careers in a world with many complex challenges. For his commitment to student development, Mark Running, a professor of biology in the College of Arts and Sciences, received the 2022 University of Louisville Trustees Award.
The UofL Board of Trustees established the $5,000 award in 1989 to honor faculty who individually impact the future of UofL students. Trustee Vice Chair Raymond Burse presented the award to Running at the April 21 trustees meeting. In his presentation, Burse noted several of Running's accomplishments and qualities as a member of UofL's faculty.
"Dr. Running joined the university in 2010 as an assistant professor, and since then has been a leader in generating new opportunities for students to engage in co-curricular learning and undergraduate research," said Burse. "He was instrumental in creating three new Registered Student Organizations: the Tri-Beta Biology Honors Society; the Cardinal Edge Undergraduate Research Journal, which recently published its first issue; and the SALUD multicultural pre-health organization."
Burse added that Running's mentoring of undergraduate students in research has been exceptional, having consistently supervised large numbers of undergraduates taking research courses; welcoming students as volunteers in his lab, allowing them to experience the research environment and gain the skills they need to engage in research for credit in future semesters; and his success in recruiting undergraduates who are members of underrepresented groups to work in his lab.
"Ever since I joined the biology department at UofL, my goal has been to leverage my position to make extensive, positive impacts in students' lives," said Running, who has mentored more than 100 different undergraduates in his lab, either as volunteers, course credit or work-study. "This has brought me some of the greatest satisfaction I've had in my career."
Learn more about Running's work at the University of Louisville and beyond on the Department of Biology webpage.