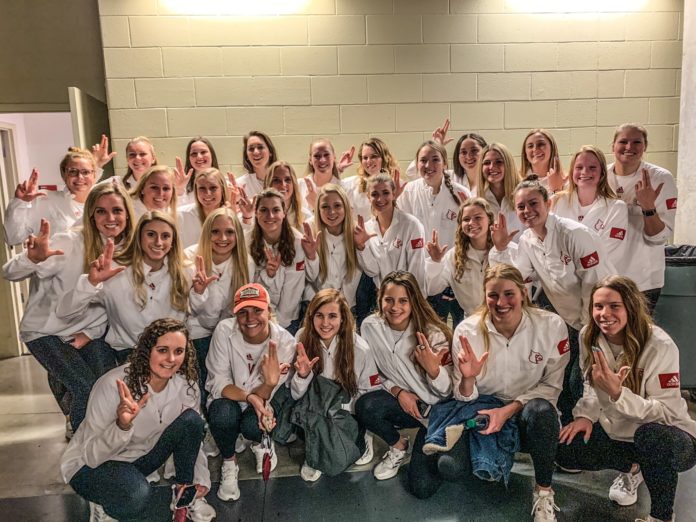 The University of Louisville athletics department announced on Sunday that 414 student-athletes earned Red and Black Scholar-Athletes honors for fall semester. The honor is awarded to student-athletes who maintained at least a 3.25 cumulative grade-point average.
 
The group, which was recognized during the Cardinals' women's basketball game, consists of student-athletes, managers, trainers, spirit squads and the pep band.
 
UofL's women's basketball, women's cross country and women's golf received NCAA Public Recognition Awards in the fall for being among the top 10% in their respective sports in the latest figures for the Academic Progress Rate (APR), which measures academic eligibility, retention and graduation for student-athletes. UofL athletic teams posted fourteen perfect scores in the most recent single-year APR.
Broken down by sport:
Baseball had 25 Red and Black Scholars
Women's Basketball: eight
Men's Basketball: seven
All-Girl Cheer: 16
Co-ed Cheer: 12
Field Hockey: 19
Football: 22
Men's Golf: eight
Women's Golf: seven
Lacrosse: 27
Ladybirds: 19
Managers and Trainers: 25
Pep Band: 46
Rowing: 31
Men's Soccer: 15
Women's Soccer: 19
Softball: 10
Men's Swimming and Diving: 16
Women's Swimming and Diving: 29
Men's Track and Field/Cross Country: 13
Women's Track and Field/Cross Country: 20
Men's Tennis: Four
Women's Tennis: Five
Volleyball: 11
A full listing of the Fall 2019 Red and Black Scholars is available on the athletics' website here.