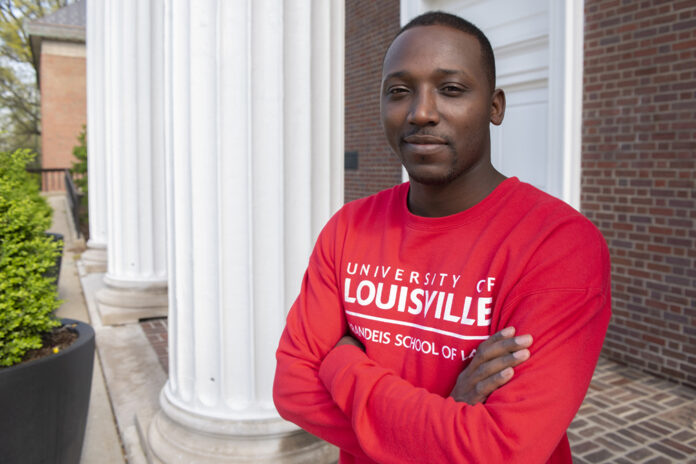 Jesten Sylvester Slaw, a U.S. Army veteran receiving his juris doctor from the Louis D. Brandeis School of Law, is the scheduled morning ceremony speaker for the May 14 Spring Commencement exercises.
The university is conferring a total of more than 3,300 degrees and certificates and more than 1,900 students are expected to attend the traditional two commencement ceremonies at the KFC Yum! Center. Interim UofL President Lori Gonzalez will lead both ceremonies, which mark the return of spring commencement exercises to the downtown arena since they were canceled in 2020 due to the Covid-19 pandemic. Last spring, exercises were held outdoors in historic ceremonies at Cardinal Stadium.
Slaw, of Atlanta, served one combat tour in Afghanistan with the U.S. Army and was introduced to UofL when he served at Fort Knox. 
"I knew the school to have an excellent reputation for working with veteran students," said Slaw, now a captain in the Army Reserve.
He said he will tell his fellow graduates to "remember the little kid inside of you who once dreamed of this day … this is only the beginning!"
In nominating Slaw to be speaker, Crystal Rae Coel, the law school's assistant dean for student affairs and diversity, called him "one in a million."
"He is a selfless, never tired, power-through leader with a wealth of knowledge and service," Coel said. 
Reflecting on his law school experiences, Slaw added he "never expected Covid-19 to be added to the list of struggles one must endure during law school."
However, he added, "our burdens fail in comparison to those who have lost loved ones during this pandemic."
Slaw was featured in a recent UofL Magazine story about the longtime partnership between the law school and Louisville's Central High School. He hopes to be a congressman someday as well as run an equal housing nonprofit. 
Slaw said he valued his experiences as part of the Student Bar Association and the Student Government Association while at UofL.
"They allowed me to learn the inner workings of both student government and collegial administration while serving others," he said. "This service to others is where the value in the experience can be found."
The May 14 ceremonies at the KFC Yum! Center will be as follows:
10 a.m.: College of Arts & Sciences, Brandeis School of Law, Kent School of Social Work & Family Science, Graduate School, School of Dentistry, School of Medicine, School of Nursing and School of Public Health & Information Sciences.

3 p.m.: College of Business, J.B. Speed School of Engineering, College of Education & Human Development, School of Music.
For more, visit louisville.edu/commencement.