Driven by his passion at a young age to become a lawyer, Brandon Rudolph '19 is now living his dream working at a general practice law firm in downtown Louisville.
"I didn't know then that I'd be at this place in life — always respect 'God's plan,' " said Rudolph, an alumnus of the Louis D. Brandeis School of Law.
A unique opportunity while a student at Louisville's Central High School helped lay the foundation for his success. Rudolph said a partnership between Central's Law and Government Magnet program and UofL provided him an educational road map to his career.
Now 20 years strong, the partnership has encouraged dozens of Central High School students to explore the field of law, with many, like Rudolph, going on to work on their juris doctorates and enter the profession. The relationship between the two schools also illuminates the value UofL places on community engagement. The Cardinal influence through Central's Law and Government Magnet represents a cornerstone of UofL's Signature Partnership Initiative in west Louisville.
A PROGRAM WITH PUBLIC APPEAL
It all began in fall 2001. Law professor Laura Rothstein was serving as dean of the Brandeis School of Law when Harold Fenderson, then principal of Central High, asked if UofL would be interested in collaborating to enhance the school's law magnet. Rothstein and a handful of other key leaders, including then associate dean Cedric Merlin Powell and assistant dean for admissions Connie Shumake, quickly agreed to the partnership.
"I had gone to law school because of my interest in social justice, race and gender issues, so this program was a priority for me," Rothstein said. "The goal of the program was not just to create a pipeline of students to become lawyers but to encourage these high school students to become civically engaged, active citizens and leaders in other ways."
Initially, the program involved an essay contest for the high schoolers, along with UofL campus visits and special events. Longtime Jefferson County prosecutor Joe Gutmann became an instrumental part of Central's law magnet program in 2005 and worked with UofL's School of Law to develop curriculum for the youth.
Thanks to the collaboration, Central High law magnet courses now include: Street Law for sophomores, Writing Skills for juniors and Marshall-Brennan Civil Liberties for seniors. In 2007, UofL students began helping teach these courses and earning public service and academic credit for their work.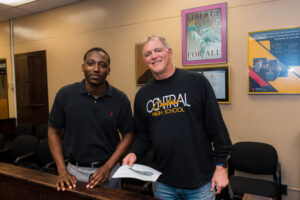 Third-year law student Jesten Slaw said he teaches to positively impact the lives of African American and other minority youth and is honored to pay back the time other educators have invested in him.
"Although most don't know, I was once expelled from school and headed down the wrong path. I cherish and appreciate the teachers who took interest in my potential and helped me change my life. I understand firsthand the huge impact they have on influencing the next generation," Slaw said.
A few more than 30 Central High School graduates have earned a law degree since 1955, with 15 pursuing their degrees since the partnership with Brandeis School of Law began.
A LAW FAMILY
Gisselle Sierra is in her final year of law school at UofL. She was part of the magnet while at Central High School and said knowing people truly cared was the best part of the program.
"The teachers encouraged us, constantly gave us feedback on our work and communicated with us individually," Sierra said. "I remembered what our teachers taught us while I was a high schooler and applied that to my lawyering skills class during my f irst semester of law school."
She'll graduate this May with a goal of practicing family and personal injury law, and one day opening her own law firm.
It takes a village, as Rothstein points out, giving credit to many for the program's success, including the Louisville Bar Association (LBA) which has facilitated summer internships in legal offices for Central students since 1992. These internships, she said, allow Central students to learn about working in a law setting and help them make important lifetime connections. Others have given financial support to sustain basic activities of the partnership with UofL, such as paying for expenses related to on-campus visits, along with teaching materials and prizes for the McAnulty essay contest.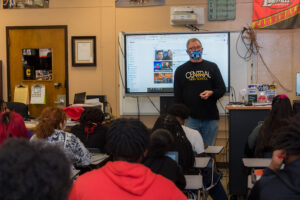 In honor of her own contributions to the program, Rothstein received UofL's 2020 Distinguished Service Award in the category of service to the community, the commonwealth and/ or the region. This year, the LBA and its Diversity Committee is recognizing Rothstein as the LBA Diversity Trailblazer. Past recipients include Powell and Gutmann.
Multiple areas throughout the UofL community, too, have given a boost to the partnership. The College of Education and Human Development provides a one-day training for law students who help teach the high school courses. The session is focused on pedagogy, classroom management and lesson planning. The College of Business over the years has included Central High students in the annual Thrivals IdeaFest and the Office of Community Engagement has helped facilitate a spring semester dual credit course for the students.
Rudolph fondly recalls his high school days and the enormous opportunity for those in the law magnet.
"UofL and Mr. Gutmann put students in a good starting place. He treated us like college students … but he has high standards, expecting students to get their work done. There were also so many positive things outside of class like moot court, mock trials and internships with larger firms," he said.
His message to those who follow him on a similar path from high school to a career in law: "Getting here might be one of the most difficult achievements, but it's not impossible."