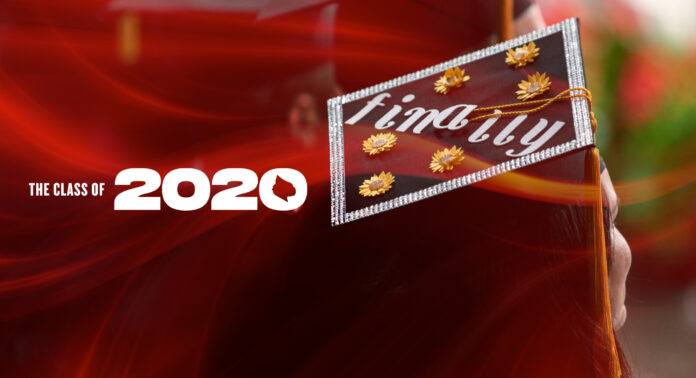 When UofL's first virtual commencement launches at 4 p.m. Dec. 12, it will be a history-in-the-making event.
Participants will see — via video — many elements of a traditional commencement. Pomp and circumstance will play. Administrators will appear in cap and gown. The president, provost, deans and students will deliver their comments and congratulations.
And every graduate will have their moment — akin to crossing the stage — where their name, degree and honors appear on the video. Names will be announced audibly and, if a photo or special message was submitted before the deadline, that too will appear.
Because the event follows a traditional format and recognizes each student, it differs from last spring's web-based celebration that honored nearly 3,200 May graduates. Those May graduates, as well as the summer and winter graduates, will be included in the upcoming virtual commencement because organizers wanted to give special recognition to all 2020 graduates.
Some hallmarks of the upcoming event include:
There will be 12 separate web-based ceremonies, one for each of the university's colleges and schools. That keeps the ceremonies to a manageable size and enables students to graduate with their classmates.
Since spring, summer and fall 2020 graduates are all included, it will be one of the largest commencements in university history. More than 5,300 scholars are expected to be recognized.
2020 graduates can take part in any future in-person commencement if they wish to do so.
Planning for virtual commencement began months ago after university officials determined an in-person event, even with modifications, would pose a significant health risk. The decision — called "gut wrenching" by one administrator — came after weeks of consultations with students, health and infectious disease experts, government leaders and others.
"First and foremost, we had to protect our students, their families, campus community and larger community," said Dean of Students Michael Mardis.
Mardis points out that if an in-person ceremony had been planned, escalating COVID 19 cases and new restrictions would have forced a cancellation.
Senior political science and history major Zach Pennington, who is part of the Student Government Association and a member of virtual commencement planning team, said virtual commencement is "the reality of this year."
Even though he is not one of the graduates, he plans to watch the celebration.
"To me, the most important part of graduation will be the celebratory aspect with friends and family. Virtual commencement provides just that. It is an opportunity to celebrate accomplishments in the safest way possible while also thanking the people who have helped you along the way," Pennington said.
More information can be found at Louisville.edu/commencement. Links to the 12 school-based ceremonies will not appear until Dec. 12 and will remain available for viewing after the event.