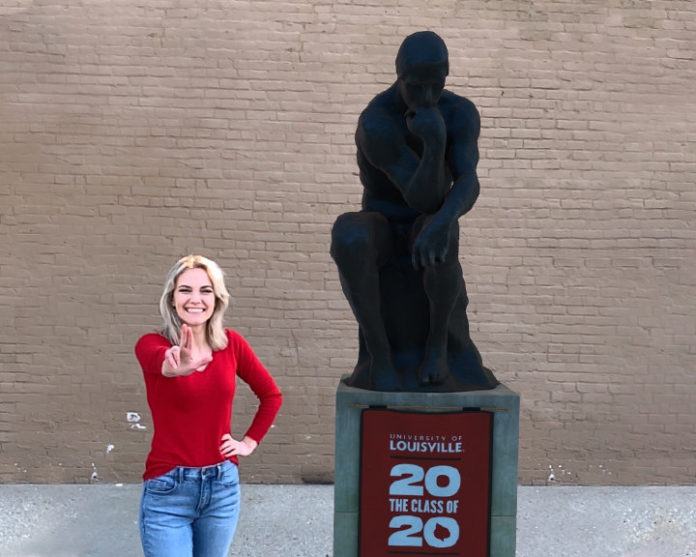 UofL's newest graduates may have missed out on the traditional commencement rite of passage of crossing the stage to get their diplomas, but there was plenty of celebration nonetheless.
The Class of 2020 was commemorated on their formal commencement date, May 9, with a virtual celebration facilitated through a digital microsite: uofl.edu/hereandbeyond2020.
The site includes a bevy of messages to the seniors from a who's who list of Kentucky dignitaries – Senator Mitch McConnell, Congressman John Yarmuth, Governor Andy Beshear and Louisville Mayor Greg Fischer among them. It also includes a few special announcements for the graduates.
Notably, Mayor Fischer proclaimed May 9 as their day, stating: "The Class of 2020 has made our community stronger through the engagement, leadership, service and innovation that are hallmarks of UofL students. They have persevered through a time of unprecedented uncertainty and will continue to make their own unique contributions here and beyond.  To celebrate their achievements, we hereby proclaim May 9, 2020 as UofL Graduates 2020 Day in the city of Louisville."
Also, UofL President Neeli Bendapudi announced that the space in the middle of the Belknap Academic Building, Lutz Hall and Shumaker Research Building will be named the "2020 Quad," with a permanent marker to be installed at a later date. And, Student Government President Jasper Noble announced the SGA will commission a mural in the Student Activities Center to commemorate the class.
The microsite is about more than special announcements, however. It also includes messages from deans across campus, Provost Beth Boehm, Dean of Students Michael Mardis and UofL Alumni Board Chairman Tommy Nolan, as well as a few stories about extraordinary graduates, virtual performances of "Pomp & Circumstance" and the UofL fight song, a digital commencement program and more.
There are also a number of interactive features, such as a social media feed that pulls in messages across Twitter, Instagram and Facebook dedicated to the #UofLGrads2020 and a TikTok challenge. Users can take a photo with campus' signature The Thinker statue through an augmented reality feature or create a customizable "Class of 2020" graphic for graduates and share their names via social media.
A number of higher education institutions have held virtual graduation celebrations in response to the COVID-19 pandemic. Some have shifted their actual commencement ceremonies online, including readings of graduates' names and commencement addresses delivered virtually.
Although UofL chose to hold off on its formal ceremony until December, when it's safe to do so, that didn't deter the university from making the day special for our graduates. The biggest objective with the commencement microsite was to create engagement – a sort of coming together of the campus and community in support of our graduates to recognize the challenges they have faced and the resiliency they have displayed.
The community certainly responded. On an organic (unpaid) level, the dedicated #UofLGrads2020 hashtag generated more than 1,000 interactions on Instagram on May 9 alone, and a reach to more than 814,000 users thanks to 500 total tweets sent on that day. Collectively, our special commencement stickers on Instagram saw 3,400-plus views. 
On the paid side, our social paid ads drove more than 800 clicks over to the commencement landing page, while paid ads saw more than 800 engagements (reactions, comments, shares, and saves) across Facebook and Instagram. We also added more than 100 pieces of user-generated content to the social media feed on the microsite. 
In addition to engagement, UofL also wanted to showcase its graduates as a signal of solidarity with the global community as we all adapt to cope with the changes the pandemic has wrought.
Indeed, UofL's virtual graduation celebration is another example of how the university is leading the way in adapting quickly to this unprecedented time. In March, a group of UofL students reached out to Vanity Fair to tout the university's safe and seamless shift to off-premise operations, as well as its compassion by quickly instating a pass/fail grading system, for example. Provost Beth Boehm was quoted in the article, calling this the "semester with an asterisk."
That asterisk is applied to commencement as well. 
"I am so proud of our graduates for their commitment and how they responded to this challenge with grit. I am also proud of our entire community for the unity it showed in supporting our graduates as evidenced by the significant levels of engagement on our graduation website. This supports our Cardinal Principle that we are a 'Community of Care,' " Benadpudi said. "We know that a post-COVID world will be one in which there is a much higher reliance on digital platforms and we are working to adapt now, to better meet students where they are and where they will be." 
Also of note, the microsite subtly introduced new design elements that will be a part of UofL's refreshed identity. The new brand campaign will lean in heavily to who we are as a university – a community full of vitality and resilience.
"This is perhaps best evidenced now, during the coronavirus crisis, when we have to rely on our collective vitality to get us through these trying times. So, we decided to soft launch our new look and messaging reflective of how the Cardinal Family perseveres in order to make meaningful and lasting impacts," Benadpudi added.
In her opening remarks to the spring 2020 graduates, Benadapudi summed up why now was the right time to introduce these elements:
"Through your vitality, through the fact that you're full of life, you have persevered. You have persisted. You have overcome, and you have succeeded. You are a college graduate."