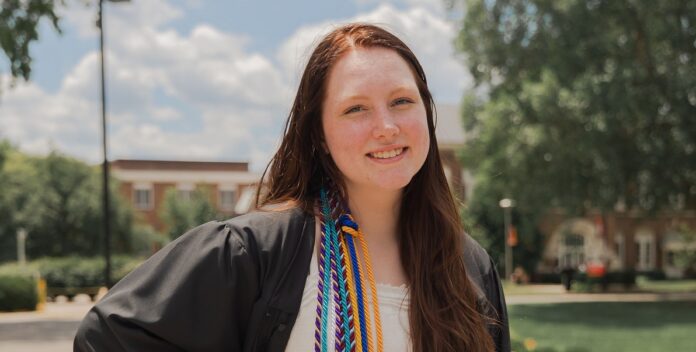 Alexa Grace Brunson arrived at the University of Louisville in the fall of 2021, a graduate of the prestigious 
Craft Academy for Excellence in Science and Mathematics
 on the Morehead State University campus, where high school juniors and seniors live in a dormitory and take college classes. 
Fueled by those credits, she obtained her bachelor's degree in sociology by August, and she will walk across the UofL commencement stage at the KFC Yum! Center on Dec. 16. 
Her secret sauce? 
"Both of my parents are really, truly into education and reading and knowledge," said Brunson, 19, who is back at MSU working on her master's degree in sociology. Her mother is a bookmobile librarian and her father works in IT at MSU. Her two older sisters are college graduates, one also with a master's degree.
Brunson's next step will be pharmacy school, and she's already been accepted to her first choice.
At Craft, Brunson devoured class after class, taking as many as she could year-round, and arrived at UofL in her first year with enough credits to be in her senior year.
Even at UofL, she took classes year-round and added a couple Jefferson Community Technical College (JCTC) classes to help her complete her degree requirements. She said her friends and senior lecturer Jonetta Weber, director of academic services for the sociology department and adjunct faculty member in sociology and sport administration, were great supporters when she got discouraged.
"I loved the UofL campus. Even though it's a very large school and it has a larger student body than Morehead State, I really felt at home there, genuinely," she said. "And I loved my professors. I loved every organization I was in. And then the city itself — there's so much to do. You can't even get bored there because there's always something either on campus, off campus. I just love the environment."
Brunson is a graduate assistant at MSU and also works as a resident assistant at her alma mater. Accompanied by her dog, Nina, and cat, Mango, she serves as a role model who helps the academically gifted Craft students navigate their unique post-secondary experience.
For some people, these achievements might be enough. For Brunson, who said she'd like to return to Louisville when she starts her pharmacy career, they are only the beginning.
"I'm proud of myself," she said, "but I still feel like there's so much more I can do as a person to benefit other people."