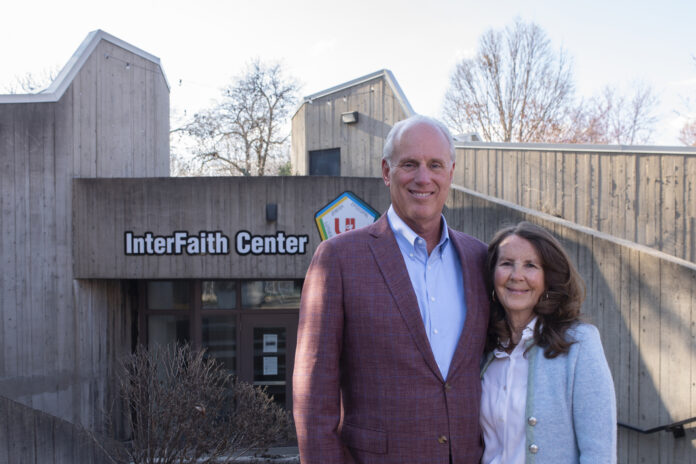 Six of Brian and Mary Lavins' 10 children are UofL alumni or future alumni. Because of this, the Lavins believe in public higher education and in providing a location for people to practice their faith while navigating college experiences.
In 2021, UofL's Interfaith Center received a makeover, thanks to the couple's $250,000 gift that funded renovations including paint, lighting, furniture and a new roof.
The Interfaith Center on Belknap Campus provides a welcoming space for students who may be embarking on their first time away from home or their religious community or who seek spiritual enrichment in university life. Built in 1974, the Interfaith Center houses the offices of Hillel, the Jewish organization on campus, as well as the campus ministries for Roman Catholic, Episcopal, Lutheran, Presbyterian and United Methodist faiths.
"The university is exceptionally thankful to Brian and Mary Lavin for their generosity in supporting major renovations and improvements to the Interfaith Center," said Michael Mardis, dean of students and vice president of student affairs. "The family has a long history and connection with the University of Louisville, and we are grateful for their ongoing involvement."
The Lavins also have a strong relationship with a former UofL Catholic Campus Ministry chaplain, the Rev. Martin Martiny, who officiated the weddings of four of the Lavins' children. When the Lavins found out the Interfaith Center needed updating, they felt it was an important way to help support students.
This story originally appeared in UofL Magazine.