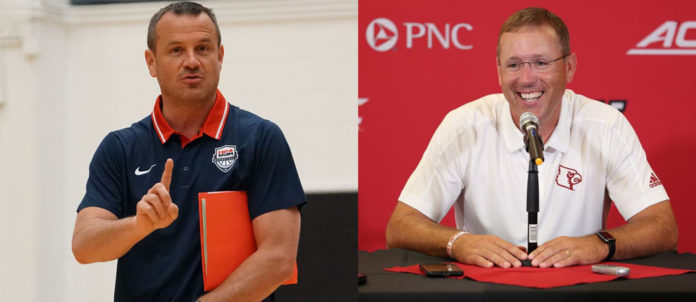 After leading the USA Basketball team to a perfect 7-0 record and a gold medal at the 2019 FIBA U19 World Cup in Bangkok, Thailand, UofL Women's Basketball Coach Jeff Walz has been named a recipient of the 2019 USA Basketball National Coach of the Year award.
He shares the award with Kansas State's Bruce Weber, who also led his team to a 7-0 record and a gold medal.
"It definitely an honor," Walz said. "And also, it shows what type of staff we had. I was very fortunate to be able to work with Cori (Close) and Natasha (Adair) the past two years. And then the players, obviously you don't get such an award without having an outstanding staff and a good team."
"Jeff Walz and Bruce Weber guided our 2019 USA men's and women's U19 national teams back atop the gold medal podium," said Jim Tooley, USA Basketball chief executive officer. "USA Basketball is grateful for their leadership and commitment, and we are proud to recognize them for their tremendous efforts."
As head coach at the University of Louisville, Walz led his team in 2018-19 to a 32-4 record and the NCAA Tournament Elite Eight.
Additionally, UofL Head Football Coach Scott Satterfield has been selected the 2019 Atlantic Coast Conference Football Coach of the Year.
 
Satterfield, who becomes the first Louisville football coach to earn ACC Coach of the Year honors, led the way in balloting among a select panel of 46 media members and the league's 14 head coaches. He received 23 votes, followed by Virginia's Bronco Mendenhall with 17 and Clemson's Dabo Swinney with 15.
"I'm certainly thankful and honored to be recognized as the coach of the year in the ACC, especially in the conference I grew up watching as a kid," Satterfield said. "I'm proud of my coaching staff who worked so hard to change the culture of this program and put our players in a position to succeed. "
 
"Lastly, I'm grateful to be able to coach a great group of players who worked so hard since we arrived here last year, and bought into what we are trying to do here at the University of Louisville.  I'm so excited to lead this program into the postseason in a few weeks."
After an impressive six-year run as the head coach at Appalachian State, which included three-straight Sun Belt Conference championships, Satterfield took over a UofL program that went 2-10 overall and 0-8 in the ACC in 2018.
Satterfield guided the Cardinals to one of the more impressive turnarounds in league history, becoming only the second school in the ACC to go 0-8 in league play the previous year to improve to 5-3 the following year. The five-game improvement also was the best among Power 5 programs this season.
Satterfield is one of six coaches in NCAA history to win coach of the year honors at one school the previous year and follow it up with a second consecutive award at a different school the following year. Jim McElwain of Florida was the last coach to do it in 2014 and 2015.