The University of Louisville football team's home opener Sept. 16 against Florida State will include several new features at Cardinal Stadium, designed to enhance the overall fan experience. 
Those new features include: 
Expedited point-of-entry
To assist in expediting the gate entry process, new pedestal ticket scanners will be installed at the two busiest gates (2 and 4). Walk-thru security will also be implemented, using stationary magnetic scanners, replacing the handheld/manual scanners from previous seasons. Fans can now keep phones in hand and keys/wallets in pockets.
 
WiFi connectivity
A $5 million investment was made towards installing WiFi access for fans to improve their gameday wireless experience, allowing fans to not only have use of the free Wi-Fi system but also enjoy more in-venue digital engagement opportunities. "CardinalsWiFi" will be available inside the stadium
 
Club space upgrades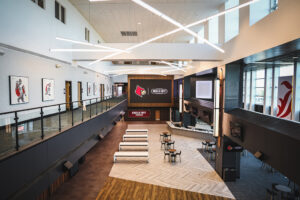 A generous $4-million gift from Angel's Envy led the way towards renovating the former Brown & Williamson Club located on the west side of the stadium into the expansive 18,000-square feet Angel's Envy Bourbon Club. The renovated club was officially unveiled last week. Learn more here.
 
Concessions improvements
In an effort to improve concessions, grab-and-go stations labeled "On the Fly" have been installed in key areas to make high-demand options more readily available to assist in reducing wait times. Other fan-favorite concessions offerings will include the introduction of 4-dollar beer options in select spaces throughout the concourse and the return of half-priced drinks from the times gates open until kickoff as part of "Happy Hour and a Half." Additionally, a complimentary concessions item is now available during certain times of each game in all club spaces.
Returning features
Also, features returning this year include mobile ticketing (gocards.com/cardsmobile); clear bag policy; parking lots opening five hours prior to kickoff; Card March Tailgating provided by RevelXP; and The Alley by Buffalo Construction, Inc. 
Michael Bush to be honored 
Michael Bush, one of the school's all-time leading rushers, will have his No. 19 jersey honored at the Florida State game on Friday night. It will be the 26th jersey to be celebrated in program history.
The Louisville native, played for the Cardinals from 2003-06 and guided the Cardinals to three-straight bowl appearances, including a win over No. 10 Boise State in the 2004 Liberty Bowl. He rushed 12 times for 96 yards in the win over the Broncos. The Cardinals finished that season 11-1 and captured a Conference USA title.
One of the most highly recruited players to ever sign with the Cardinals, Bush rushed for 2,508 yards, which still stands eighth all-time in school history, while his 39 career touchdowns are third-most in school history. As a receiver out of the backfield, Bush caught 50 passes for 651 yards and two touchdowns during his three seasons with the Cardinals.
The former Male High product was drafted by the Oakland Raiders in the fourth round, and played four years for the Raiders and two with the Chicago Bears. Over his six-year NFL stint, Bush rushed 3,250 yards rushing with 29 touchdowns and 1,010 yards receiving with two touchdowns. His best season came in 2011 with the Raiders when he ran for 977 yards and seven scores. 
Red Out
Finally, Friday's game against Florida State will be a Red Out and Educator Appreciation Day. Kickoff is at 7:30 p.m.