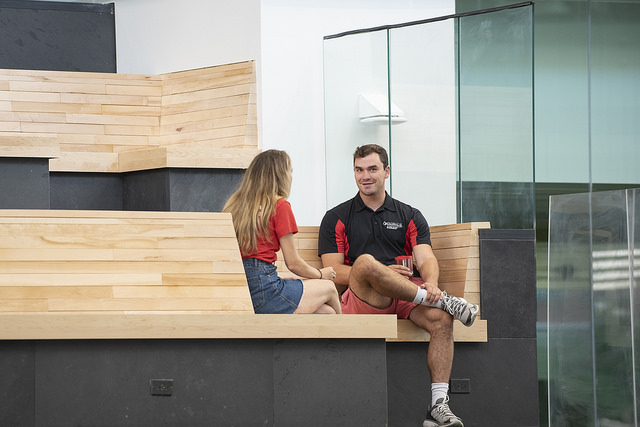 It's been more than a month since the official ribbon-cutting of the Belknap Academic Building, a construction project two years in the making. With its technology-rich classrooms, abundance of social spaces, and academic support and advising all in one spot, much ado has been made of the building's focus on student success.
As Provost Beth Boehm said during the ribbon-cutting ceremony in August, "We are trying to provide constant, intensive support for our students. Our goal is for them not just to succeed, but to excel."
So, what do the students think about the building?
Whena Munn, a junior biology major from New Zealand, said the new and modern learning spaces – as well as the out-of-class study areas – are the building's selling points.
Jacqueline Lizotte, a junior anthropology major from Harrisonburg, Virginia, has two classes in the building this semester. She admits she is still getting used to the setup of one of the classrooms, but describes the other as "very conducive to group participation."
"(The building) is nice and comfortable," she said.
Lizotte, who is disabled, said her favorite feature is the oversized elevators.
"I appreciate how accessible the whole building is," she said.
Lizotte makes use of the individual study areas and group study rooms in between classes. She's not the only one.
Nicole Harris, a sophomore mechanical engineering major, hangs out in the BAB during a "huge gap" between classes on Tuesdays.
"I live off campus, so it's nice to have this place to go. It's a nice, big, comfortable space. There are outlets everywhere, which is great. It seems like a lot of people take advantage of the different types of spaces that are here," she said.
The first-floor benches up the stairway, for example, are typically full of students, including Harris. In a nod to the past, those benches are made of wood recycled from the Crawford Gym floor that used to occupy that very space. 
"I think that is very cool," Harris said. 
Furthermore, the open classroom spaces have enabled her to interact more with her classmates, which has been a big positive.
"I didn't think it would work out that way, but I feel more encouraged to talk to the people I'm grouped with," Harris said.
It's not just the upperclassmen who are enjoying the space, either. A trio of freshmen – Royster Strickland, Taylor Brock and Emily Beltchev – use the space for studying.  
"We usually come here to study because it's quieter than the SAC. The SAC is more for eating and socializing. This is more of a working space," Brock said.
"I came from a huge, cramped high school with over 2,000 students, so this building is very different. It's so big, inviting and contemporary," Beltchev said.
The freshmen, all bioengineering majors, also appreciate the classroom and lab spaces.
"The labs allow for more interaction with our teachers. It's a nice dynamic. It's more personal," Strickland said.
"If I had my class in a lecture hall, I would have straight up fallen asleep," Brock joked. "Here, our instructors come around and interact and talk to us. I feel like we're a lot more connected to them."