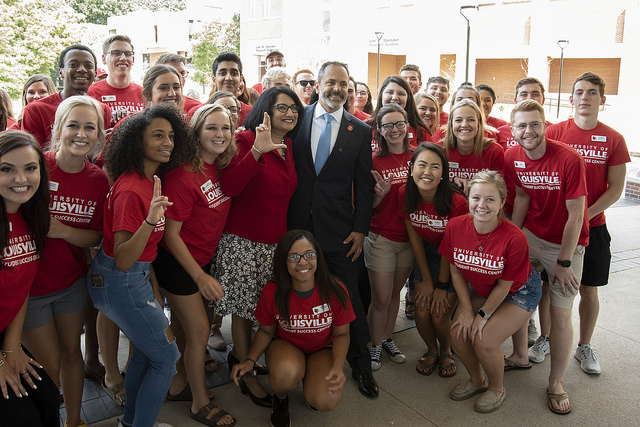 Incredible. Spectacular. Transformative.
Those were some of the words used August 14 during a ribbon-cutting ceremony to mark the grand opening of the Belknap Academic Building. The 165,000-square-foot building addresses a longtime need for more and better classroom space.
"UofL had the most critical shortage of classroom space of all Kentucky public schools. This building changes all of that," said UofL President Neeli Bendapudi.
Kentucky Gov. Matt Bevin, who took part in the celebration, called the facility an "incredible resource" that will change people's lives.
"This is the embodiment of what spending money on post-secondary education is all about," Bevin said. "This building is how we connect young people with the skills they have to impart and to empower them and arm them with what they need in the real world."
The four-story, $80 million facility, located along South Brook Street between the Shumaker Research Building and Lutz Hall, contains more than 50 classrooms, laboratories, seminar rooms and group study areas. It also includes common areas where students can interact with their classmates.
Additionally, the building houses the university's Student Success Center, where students receive services that will help them to thrive in the classroom and beyond.
"These services are essential to student success and they belong in the same building," said Interim Provost Beth Boehm. "We are trying to provide constant, intensive support for our students. Our goal is for them not just to succeed, but to excel."
The ceremony, which was held less than 48 hours before freshman move-in day, represents a new beginning, said Student Government Association President Jonathan Fuller.
"I think I speak for the entire Cardinal family when I say this building couldn't come at a better time, when we're starting fresh and refocusing on our mission," Fuller said.
Construction of the academic building began two years ago on the site where the legendary Crawford Gym once stood. In a nod to the past, the first-floor benches in the new building are made of wood recycled from the Crawford Gym floor.
The new building primarily will serve undergraduate students, particularly those taking courses in the College of Arts and Sciences. It has labs dedicated to anthropology, biology, chemistry and physics.
The building's technology-rich spaces are designed to foster innovative and active learning methods proven to promote student engagement. Services offered in the facility make it a one-stop academic shop for UofL students.
"Our hope is this building sends a powerful signal to the world that UofL will continue to thrive and excel as an academic institution," Bendapudi said.
Photos from today's ceremony and building tours are available online here. Below are some highlights from the ribbon-cutting ceremony: