When Julie Leroy received a Cuddle Clone of her beloved dog Cuda, who had died June 28, she couldn't keep the tears from flowing.
The stuffed animal looked exactly (down to her teeth) like Cuda, a Staffordshire bull terrier with an unusual appearance resulting from a rare condition called short spine syndrome, which left her with a sloped back, a short neck and an elongated face. Cuda was a social media darling who had overcome her condition to work as a certified therapy dog, traveling to schools, prisons, hospitals and group homes. 
"Cuddle Clones, thank you so much for the work you put into Cuda," Leroy, of Tampa, Florida, wrote on her Facebook page, Cuda Cares, posting pictures for her 26,000 followers. "I can't stop crying …"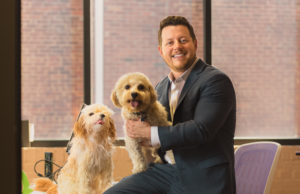 The Cuda Cuddle Clone then joined its former housemate, Murphy, who died three years ago and was the first pet Leroy had made into a Cuddle Clone. Under a picture of the two plush animals facing each other, Leroy wrote, "Together again" and added the hashtag #foreverbesties.
That is the essence of Cuddle Clones, a Louisville based company that started in a UofL classroom in 2009 and in the past three years has rocketed to success. In 2018, the company reported $3.5 million in revenue and was recognized as the fastest-growing private company in Kentucky by Inc. 5000. Louisville's Business First ranked it No. 1 in its 2017 list of the 50 fastest-growing companies in the Louisville area. It has gone from two employees in 20112013 to 55 employees (40 full time in China) in 2019.
The company is now looking to develop its online presence to be the first place pet owners go to express their feelings about their fur family. 
"Our goal is to be the No. 1 destination online for pet parents," said UofL alum Adam Greene '06, '11, co-founder with fellow alum Jennifer Williams '11.
Random pairing
Greene and Williams met when they were both in the entrepreneurship-focused Integrative Master of Business Administration (IMBA) program in 2009 and were randomly paired with each other. Williams told Greene about her idea, which she had come up with one day as she rested her head on her beloved Great Dane.  
When Williams and Greene started bouncing the idea around to come up with a business plan, they saw  immense challenges. Neither had manufacturing experience, much less manufacturing experience in Asia, where most plush toys are made. They needed sophisticated market research. They would need product samples, which were expensive to make.
It was a lot. But when Greene was ready to give up at times, Williams kept going.
"We balance each other out," Greene said. 
They started competing in student competitions and won enough prize money to add to their own personal financing for a good start. They found a consultant who had experience sourcing partners in Asia for American companies. Williams traveled to China — even lived there for several months — to do the detailed work of figuring out the manufacturing, a make-or-break task. Greene, meanwhile, worked on the company's online presence and marketing.
The two graduated in 2011, and in 2013 Cuddle Clones became operational in both the United States and China. They started with their flagship plush Cuddle Clones and collars. Later came plush golf club covers, slippers, memorials, holiday stockings, jewelry and custom illustrations of pets on anything from blankets to socks.
"My little saying of my vision is … Chewy. com has everything for your pet; I want Cuddle Clones to be everything of your pet. So … we're going to continue to add products throughout the years," Williams said in a podcast with StartupCompetitors.com earlier this year. 
Keeping it local
Cuddle Clones' second-floor headquarters on Baxter Avenue in Louisville is light-filled and cheerful with purple walls and a ping pong table. It was decorated by students from a UofL interior design class. On the first floor are packing and shipping offices, where employees bring their dogs to work and stacks of Cuddle Clones boxes wait by the door to be shipped out.
Greene said the company has been surprised to find its market expanded from about half pet owners who thought Cuddle Clones made fun gifts and half who were grieving the loss of their pets to include other groups of people who missed pets they were separated from: college students, deployed troops, nursing home residents. On a wall in the company's headquarters and across the internet are thank-you notes from people the world over (In 2018, 18% of revenue was attributable to activities outside the U.S., according to the company's Securities and Exchange Commission filing.).
Cuddle Clones also is dedicated to giving back, and the company has donated a percentage of every purchase to pet charities since its founding. It recently announced, in an effort to guarantee all donations are going to directly care for animals, that a majority of its donations would be given to The Arrow Fund, a Kentucky-based 501(c) (3) nonprofit that provides services for animals that have been victims of extreme torture, cruelty or neglect. The company also donates returns of plush clones to the Louisville Metro Police Department for victims of domestic abuse.
For Leroy, the company has truly helped ease her grief, even though she thought her Cuddle Clones might be "really creepy" at first. "But, oh, it's been a nice comfort to look up and see them together on top of my dresser," she said.