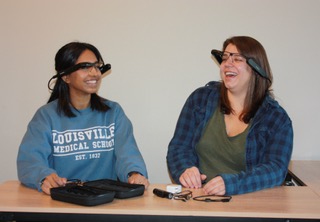 When two medical students opted to take part in an emergency department virtual shadowing session with Dr. Jeff Baker, they didn't imagine it would grow into something more. As a medical resident wore a pair of smart glasses, students could see and hear what was happening in the emergency room while Baker explained the events and procedures, all through Zoom.
"We were amazed by how realistic the shadowing experience was, and at times witnessed procedures and interactions between doctors and patients that are easy to miss when shadowing in person," said Lekha Devara, second-year medical student.
During a conversation with classmate Briana Coleman, the two brainstormed the possibility of making the glasses more accessible to students and faculty. Devara and Coleman moved their idea forward, citing necessity as the mother of invention.
"The switch to virtual schooling and lack of in-person clinical experiences were driving factors in seeking other ways to enhance our medical education. Moreover, the experience of shadowing through the glasses allows students to get a first-person perspective of a practicing physician — a priceless experience," Devara said.
With the help of several medical faculty and staff members, and support from the university, the students received funding to purchase three new pairs of smart glasses, and develop a user-friendly protocol that could be applied to other medical specialties.
Devara explained they had recently opened up the smart glasses program to all medical students and faculty, with the that hope more virtual shadowing sessions will be scheduled in the spring semester.
"The utility of smart glasses in medicine is only dependent on the imagination of those using the glasses," Coleman said. "From bringing specialist services to rural areas, to educating hundreds of learners on an intricate procedure in real time, the possibilities of smart glasses use in medicine are endless."
The critical thinking required in the medical profession is one reason both students are pursuing a medical career, and it is the factor that led them to pursue this project.
"We've spent a lot of time this semester dedicated to the expansion of virtual shadowing because we truly believe smart glasses can open a plethora of doors in medical education. Even beyond the age of COVID-19, smart glasses have the ability to offer new insight in medicine," Coleman said.
The American Medical Association recently accepted a report from Coleman and Devara on the use of smart glasses for the purpose of virtual shadowing. The submission will be published in the AMA's 2020 edition of "Medical Students, Residents and Fellows Making an Impact."
The School of Medicine began piloting the use of smart glasses for advanced delivery of health care this spring in the areas of psychiatry, emergency medicine and at the UofL Trager Institute.