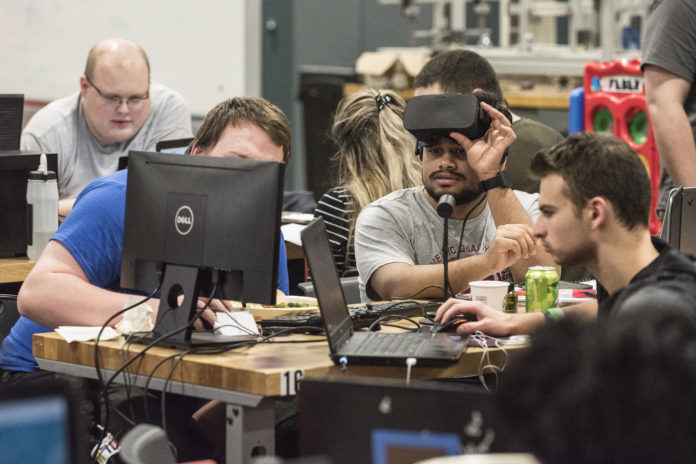 What does the city of the future look like?
Well, it's smart. Really smart — sort of like the students who participated in the DerbyHacks hackathon this past weekend. 
More than 100 hackers spent 36 straight hours at the University of Louisville Engineering Garage, 1960 Arthur St., developing creative software and hardware along the smart cities theme.   
Some hacks were practical, some whimsical. One team taught Amazon's Alexa smart assistant to play chess, while others used open data to create grocery lists or map the best places to buy a home, accounting for crime rates and other factors.  
"We saw lots of great people making lots of great projects," said DerbyHacks director, Shayne Hemminger. "My personal favorite hack involved trying to emulate old vector display video games." 
There's a full list of projects and winners here, on the DerbyHacks website. 
The second annual hackathon was organized by University of Louisville students, with help from outside organizations. 
"Derbyhacks was a great success, it took a lot of effort from a lot of people to pull of this event," said Sam Nwosu, a computer science and computer engineering graduate student and president of Speed ACM, the Association for Computing Machinery (ACM) student chapter. "I really enjoyed the smartdollhouse project and the newsforme project. Both were very creative and had a lot of work put in it." 
The J.B. Speed School of Engineering sponsored the event, along with Humana Inc., KFC, the city's Office of Performance Improvement and Innovation and the Institute of Electrical and Electronics Engineers. The UofL Institute for Product Realization was a partner, as were Major League Hacking, ACM and Linode.