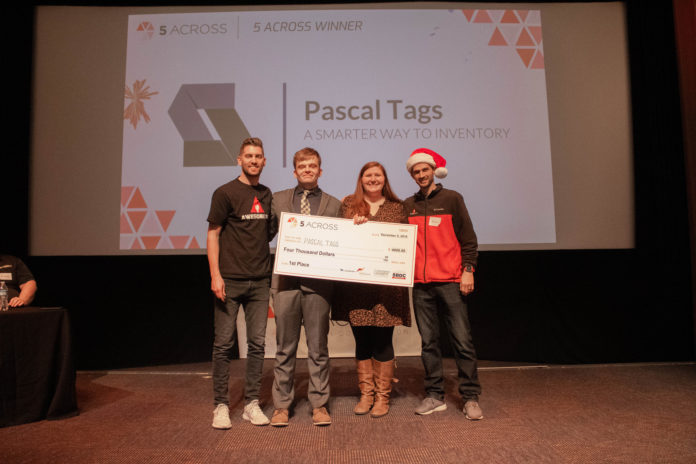 Pascal Tags, a startup formed by UofL students, snagged the top prize at the 5 Across statewide pitch competition finals, held earlier this month. 
The team took down four other teams in the 5 Across finals, each with five minutes to pitch their big idea. That earned Pascal the $4,000 grand prize, plus the $500 earned for winning a preliminary round in February.
Pascal Tags is led by engineering student Brandon Young, and recent grad Haley Pfeiffer. The company is based on a battery-free, smart tags that can help track inventory, which Young invented with UofL's Dr. Thad Druffel.
"This prize money will help us get our pilot programs started faster and really accelerate our growth," Pfeiffer said. "The competition also allowed us to gain some great connections and tell more people about our innovation." 
She said Pascal hopes to begin its first pilot programs within the next three to six months. The team also is working to better understand their customers, and continuing its research and development.
The team worked with UofL Office of Technology Transfer to protect and commercialize the technology, and participated in UofL's LaunchIt entrepreneurship training and the NSF Innovation Corps (I-Corps) site program for translational research. 
Since then, they've gone on to win a Vogt Award and Young competed as a finalist in the National Collegiate Inventors Challenge. 
Pfeiffer also has recently been accepted into the AWARE:ACCESS program at UofL, aimed at helping women and underrepresented entrepreneurs submit more competitive applications for SBIR and STTR grant funding.
"We are so excited to see the community supporting and believing in Pascal Tags," Pfeiffer said. "We can't wait to see what the future holds."