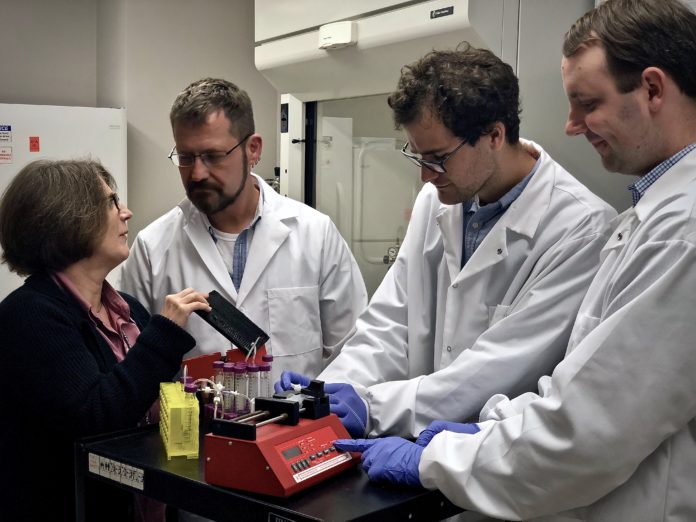 Donated blood can save lives. But for uses like disaster relief, military missions and space flight, blood's current six-week shelf life just isn't long enough.
To solve that problem, researchers at the University of Louisville have invented a device and method for loading preservative compounds into red blood cells. This technology may aid in extending blood's window of use by enabling the dehydration and dry storage of red blood cells at room temperature.
Now, via a $750,000 grant from the National Science Foundation (NSF) and a cooperative agreement with Indianapolis-based Cook Regentec, the team is working on further developing the technology and getting it to market.
"The goal is that this kind of system could be commercialized," said Dr. Jonathan Kopechek, an assistant professor of bioengineering. "There's a whole lot of opportunity. It's exciting."
Drs. Kopechek and Michael Menze, and graduate student Brett Janis, invented the technology and developed the prototype – a small, chamber with fluid channels inside. They are working with the Office of Technology Transfer to commercialize and protect the intellectual property.
"The researchers have proven it works and they have the prototype," said Dr. Paula Bates, a UofL professor of medicine, who teamed up with the inventors to secure this grant as principal investigator.
By creating temporary breaks in the cell walls with tiny bubbles and ultrasound, the team can inject a preservative that protects the cell membranes. Once loaded with that preservative, the cells are ready for dehydration. Then, the blood can be rehydrated on-demand — even months later.
The process is sort of like dehydrating sea monkeys, then watching them spring back to life when they're submerged in an aquarium.
"The dehydrated red blood cells can be reconstituted by gently mixing with water," said Menze, an associate professor of biology and assistant chair. "It's that simple: 'just add water'."
Much of the initial proof-of-concept work and prototype development for the technology was funded by a grant from UofL's ExCITE translational research program, which is part of the National Institutes of Health REACH network. The researchers also are products of LaunchIt entrepreneurial training and NSF's Innovation Corps (I-Corps) site translational research program, both at UofL.
By working with an industry partner, the UofL team hopes to accelerate the technology's path to market and explore other potential uses. While it's initially being used for blood, this is a platform technology and could have multiple applications, including for storing or transforming other cell types.