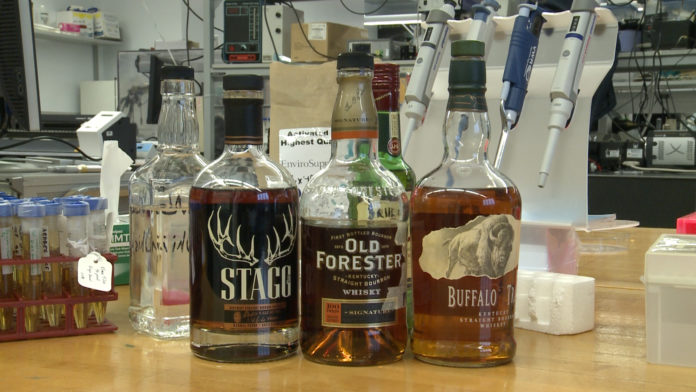 How is bourbon like a human? A team of researchers at UofL may have that answer. 
These researchers are studying the molecular make-up of whiskey, including Kentucky's signature bourbon. UofL engineering professor, Stuart Williams, calls their discoveries "whiskey webs." Williams is looking at different bourbon brands under microscopes to see what their unique web looks like, something like their own DNA.
"We have 66 American whiskeys that are commercial and 65 of them produced a web… and of course, the scientific question is why?" Williams said.
Williams believes this research could lead to better counterfeit identification. By examining the bourbon, researchers are able to tell if it is actually a cheaper bottle being sold as a higher-priced knock off.
"What we are also finding out, and we're still investigating, is maturation. There are a lot of companies that are trying to rapidly age their bourbon or products, whatever it may be, not just restricted to whiskey," Williams said.
Check out more information about this research below.