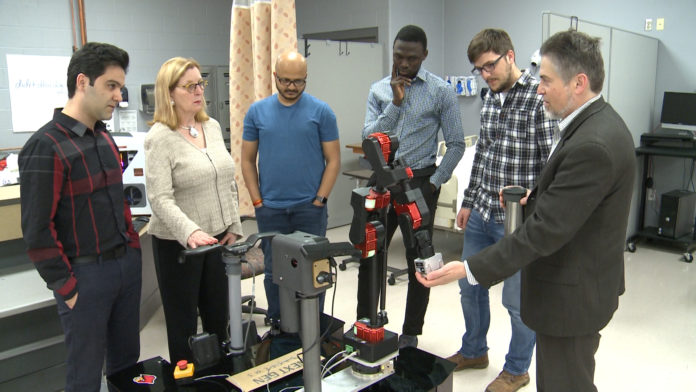 Two University of Louisville research teams have been chosen to participate in a prestigious, nationally competitive innovation program through the National Science Foundation. 
The NSF's Innovation Corps (I-Corps) Teams program provides training and $50,000 in funding that helps university researchers translate the ideas they develop in the lab into new, technology-backed startups. Participating teams complete an intense, two-month bootcamp learning about commercialization, engaging with industry and talking to potential customers.
Two projects from UofL were chosen to participate in recent bootcamp cohorts:
BioCaRGOS, short for Capture and Release Gels for Optimized Storage (bioCaRGOS), uses a novel water-based stabilizer to enable storage of sensitive biospecimens like RNA, DNA or proteins at low temperatures for long periods of time, including during transport to remote locations. The project team includes: co-inventors Gautam Gupta and

 

Rajat Chauhan, both in the J.B. Speed School of Engineering, and business mentor Jeff Cummins, who also is an Entrepreneur-in-Residence with the UofL Office of Research and Innovation.
ARNA, short for Adaptive Robot Nursing Assistant, an artificially intelligent health care robot created to provide round-the-clock patient monitoring and allow nurses to focus more on direct patient care by taking on some of their time-consuming tasks. The project team includes: co-inventors Dan Popa and Sumit Kumar Das, of engineering, and business mentor Mary Tapolsky, of the UofL Forcht Center for Entrepreneurship.
Chauhan, of the BioCaRGOS team, said the experience helped his team find an industry commercialization partner. They currently are seeking partners for an upcoming application NSF Partnerships for Innovation program, which allows NSF-backed projects like his to work with industry on research and development and accelerate the technology's path to market.
"Vaccine stability (especially for COVID-19) remains a critical challenge and is the critical bottleneck for effective distribution of the state-of-art MRNA based vaccines to current population," said Chauhan, BioCaRGOS entrepreneurial lead and a postdoctoral research scientist. "Our technology has the potential to advance the delivery of vaccines at room temperature, a feat that cannot be achieved currently."
Teams must be nominated for the national I-Corps bootcamp, and must first complete a regional I-Corps site program. Both the BioCARGOS and ARNA teams completed UofL's I-Corps site program — part of UofL's suite of prestigious translational research grants, that also includes the UofL Coulter Translational Partnership, NIH KYNETIC and NSF AWARE:ACCESS programs. I-Corps at UofL requires successful participation and completion of LaunchIt, UofL's own 10-week entrepreneurial bootcamp.
"These programs support commercialization of the work being done by our researchers here at UofL," said Jessica Sharon, UofL's director of innovation programs. "We're proud of the ARNA and BioCARGOS teams, and their work to accelerate product development of their innovations to address unmet needs in the market."