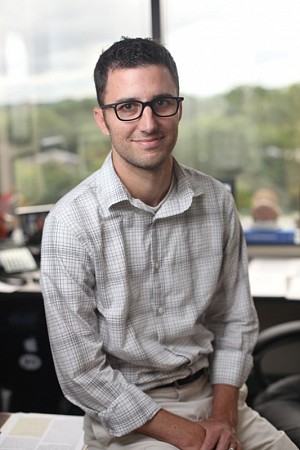 The millions of viewers watching this weekend's Super Bowl will no doubt witness exceptional physical abilities of the athletes as they execute precise passes, acrobatic catches and lightning-fast runs. However, research at the University of Louisville into the neurocognitive abilities of these players is revealing specific skills that allow them to excel at the mental game as well.
Brandon Ally, PhD, and researchers at the UofL Center for Sports Cognition have demonstrated that elite college and professional football defensive players have a greater ability to show steely focus, shielding their actions against interfering information on the field. Ally, an assistant professor in the Department of Neurological Surgery, has looked at the speed with which elite defensive players read a play and close on offensive threats.
In research recently accepted in Frontiers in Psychology: Movement Science and Sport Psychology, Ally and his colleagues compared reaction times in NCAA football players with non-athletes. The athletes and non-athletes show similar reaction times to simple stimuli. In an experimental task requiring the subjects to respond in the same direction as a series of five arrows, again there was no difference between NCAA football players and non-athlete controls.
However, when the center arrow is pointed in the opposite direction of the four other arrows (which were all moving in the same direction), the NCAA football players respond to the direction of the center arrow much more quickly than the non-athletes. 
"This means that football players are more proficient at shielding motor response execution speed from the interfering effects of distraction than non-athletes," Ally said. "On the field, this will translate to the ability to more quickly spot key movements amidst the visual chaos of the offense and respond with decisive action."