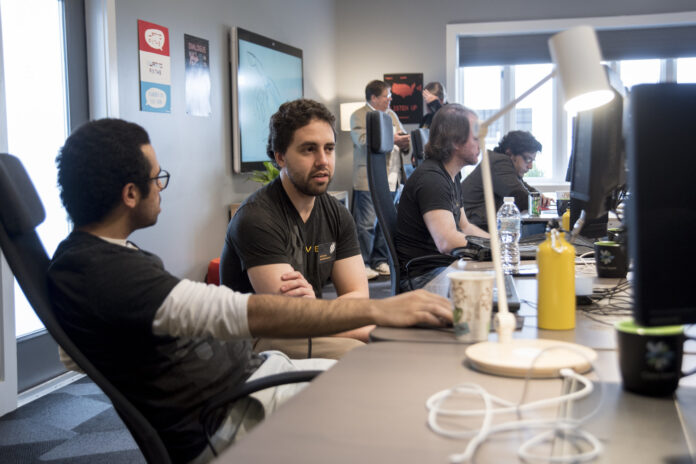 The University of Louisville is part of a coalition that has received $500,000 to launch a new effort aimed at workforce development and innovation in health care.
The new Kentucky Digital Health Tech and Artificial Intelligence Innovation Coalition is backed by one of 60 phase-one planning grants awarded through the U.S. Economic Development Administration's Build Back Better Regional Challenge. As a finalist receiving phase-one funding, the coalition now will compete for up to $100 million in phase-two implementation funding.
The coalition is led by the Louisville Healthcare CEO Council (LHCC) and includes UofL, the Academy of Music Production Education and Development, Greater Louisville Inc., Kentuckiana Regional Planning and Development Agency, Louisville Metro Government, the Louisville Urban League and Metro United Way.
"This work will be transformative for our city and our region," said Kevin Gardner, UofL's executive vice president for research and innovation. "By bringing together a powerhouse research university and our community partners, we can build on our strengths and past success in health care, innovation and entrepreneurship to make a real impact."
In phase one, the coalition partners will plan new workforce development, entrepreneurship, research, innovation and commercialization programming and supports centered on digital health care and artificial intelligence.
"Our goal is to establish the Louisville region as a national hub for digital health care and train a high-tech health care workforce," said Tammy York Day, president and CEO of LHCC, which represents 14 of the region's largest health care companies, including Humana Inc. and Kindred Healthcare.
This new effort builds on previous collaborations between UofL and LHCC to boost regional health care startups and innovation. Together, they run Aging 2.0, which supports programming, training and mentoring for aging and health care innovators and entrepreneurs.
"Louisville already has significant strength in all of these areas — in health care, technology and startups," said Will Metcalf, an assistant vice president for research and innovation at UofL and a lead on the grant. "With this new funding from the EDA, we hope to build on that success and to promote economic development and equity."
UofL supports entrepreneurs through its UofL New Ventures office, which works to launch and grow startups built around UofL intellectual property, through LaunchIt, a 10-week entrepreneurship and innovation boot camp and through a rotating roster of entrepreneurs-in-residence — seasoned founders who help guide the university's research-backed technologies to market.
At LHCC, Aging 2.0 supports programming through the LHCC Corporate Innovation Center, housed on UofL's downtown entrepreneurship and innovation campus. This includes LHCC's Chairman's Circle, a group of former health care executives available for entrepreneurial mentoring, and annual CareTech aging innovation pitch competition.