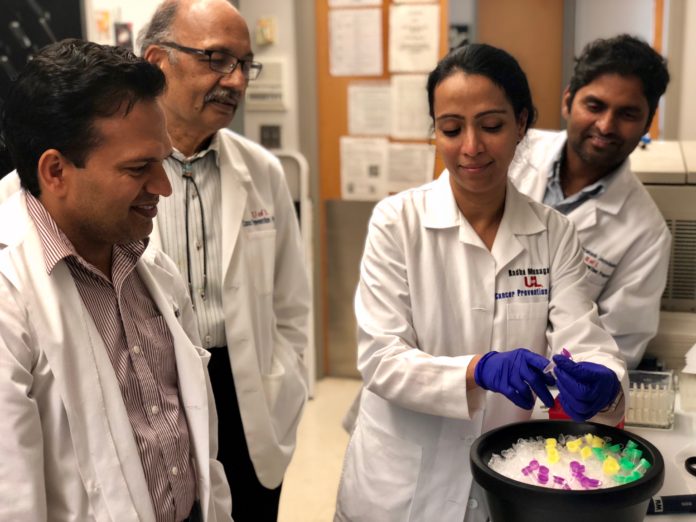 New technology developed at the University of Louisville could make medicines more targeted and effective — and it's done using milk.
The milk exosome-drug delivery tool, invented by UofL's Dr. Ramesh Gupta and his team members – Dr. Radha Munagala, Dr. Farrukh Aqil and Jeyaprakash Jeyabalan – could improve how humans absorb drugs meant to treat disease and relieve pain. Now, two companies – PureTech Health and Roche – are working to advance the technology and get it to market.
"This field is emerging, it's so new," said Gupta, a professor of pharmacology and toxicology and endowed chair of oncological research at the UofL School of Medicine, James Graham Brown Cancer Center. "We want to take this to tens of millions of people."
Gupta said many drugs are taken orally, but they may not be fully absorbed once they get to the stomach.
This technology could improve the absorption rate by loading the drugs into milk-derived nanoparticles tiny enough to easily move through tissue and cross the blood-brain barrier. Gupta ensures drugs are delivered to the right part of the body (or the right "zipcode," as he puts it) by "decorating" the nanoparticles with antibodies or folic acid or some other ligand.
This is a platform technology, Gupta said, meaning it could have numerous applications. Just as a computer can run many programs, the milk exosomes can be used to deliver many drugs and treat many diseases, such as Alzheimer's, Parkinson's or cancer.
"This technology has the potential to help a lot of people," said Dr. Holly Clark, deputy director of UofL's Office of Technology Transfer (OTT). "That's our goal — we want to get the groundbreaking research happening in our labs to market, where it can help people."
Gupta initially founded a startup company, 3P Biotechnologies, and licensed the technology from the OTT. The office worked closely with 3P Biotechnologies on a commercialization strategy involving a sublicense to clinical-stage biopharmaceutical company, PureTech Health, in Boston.
Now, F. Hoffmann-La Roche Ltd and Hoffmann-La Roche Inc., a Swiss pharmaceutical giant, has signed an agreement with PureTech to use the technology for the oral administration of Roche's antisense oligonucleotide platform.
PureTech is working with Gupta to develop drug delivery applications of the exosome technology, and 3P Biotechnologies is exploring additional applications as far ranging as veterinary medicines, nutraceuticals and cosmeceuticals, as well as bulk production of exosomes.
"Universities are doing a lot of great work. They're the birthplace of a lot of these ideas, and move them forward," said PureTech senior associate, Dr. Rishab Shyam. "We look forward to building this relationship and taking this technology forward."