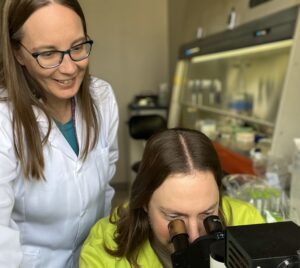 New research led by the University of Louisville shows that differences in our DNA can drastically impact our bodies' immune response. 
The work, recently published in the journal Nature Communications, reveals an underappreciated connection between genetics and our antibodies. Antibodies are key players in our immune system, with important roles in human health and disease, including in infection, autoimmunity, cancer and even vaccine responsiveness.
"Our work demonstrates that not everyone has the same capacity to generate certain types of antibodies due to genetics," said Oscar Rodriguez, a post-doctoral fellow at UofL, and the first author of the study. "This could have critical implications for how we assess outcomes related to treatments and vaccines that depend on the antibody response."
Vaccines, for example, work by simulating a viral infection and triggering an immune response — a sort of drill that teaches the body what a virus looks like and how to fight it. While it's commonly known that individual response to vaccines can vary from person to person, this work shows more clearly than ever that these variations may depend on the antibody genes a person has inherited.
"For a long time, we've assumed vaccines could be designed using a one-size-fits-all approach," said Melissa Smith, director of the UofL Sequencing Technology Center, and lead author of the study. "This research shows that genetics predisposes us to qualitatively and quantitatively different antibody responses. If this information could be used to understand when individuals will or won't respond to a given vaccine or treatment, that could be hugely impactful."
The research also revealed that differences in our antibody responses could be linked to broader patterns of genetic diversity across human populations. This stresses the need to better characterize diversity in the genes that encode antibodies, and specifically increase the sampling of understudied populations. This is one of the driving forces behind research being conducted by this team.
Critical for advancing this effort is the recent acquisition of a new state-of-the-art genomic Revio sequencing system by the Sequencing Technology Center. UofL is one of only a handful of service providers in the country to offer access to this technology. Its use by this team could help improve our understanding of ancestry-specific immune gene-associated disease through the characterization of antibody genes in thousands of individuals worldwide, leading to improved and more equitable patient care. 
"We are currently building the most comprehensive catalogs of human antibody genetic variation from diverse genetic ancestries," said Corey T. Watson, associate professor in the Department of Biochemistry and Molecular Genetics, and senior author of the study. "By studying a greater number of populations across the globe, we will be able to clarify the contribution genes make in positioning our immune systems to respond in a variety of disease contexts, and hopefully inform next-generation treatments."