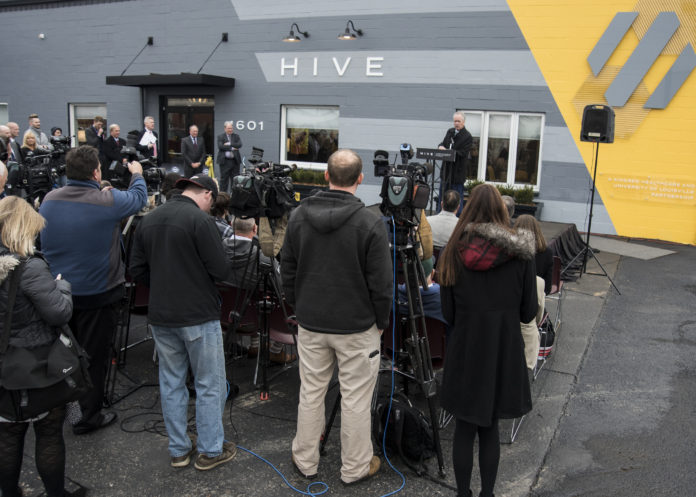 The University of Louisville was "buzzing" with activity Thursday, as leaders marked an innovative new partnership with Kindred Healthcare.
The partnership, called the Hive, focuses on creating healthcare technology solutions for aging care, such as mobile applications that track compliance. By locating near campus, Kindred will get to work closely with students and faculty.
"This is an example of the ways in which companies and universities can work together for the benefit of the community, students, patients and companies such as Kindred," Kindred President and Chief Executive Officer Benjamin A. Breier said in a statement. 
The 3,500-square-foot center is in former K-I Lumber & Building Materials office building at Floyd and Lee streets, near UofL's Belknap Campus.
The space has a distinct "startup" vibe, with bee-themed decor and graphic design pieces from students at the UofL Hite Art Institute. There are also smartboards, computers and other technologies donated by California-based technology giant, Cisco Systems Inc.
The University of Louisville Foundation purchased that property two years ago. It's in the heart of "the North Quad," an area that's increasingly drawing these kinds of university-industry partnerships.
"To see the amount of innovation that's taking place at UofL, and especially in the North Quad, is a tremendous thing," said Louisville mayor, Greg Fischer. "Not just for the university and for great companies like Kindred; it's wonderful for our city, as well."
Louisville-based manufacturer Advanced Energy Materials opened a new facility there this summer. And, FirstBuild — an open-innovation makerspace and micro-factory —opened in 2014 in partnership with GE Appliances, a Haier company.
"This is all part of our plan to develop a series of partnerships between industry and academics," said UofL interim president, Greg Postel. "The students actually contribute to the innovation that takes place here and at the same time, it enhances their education."
For example, take Will Rigby, who worked with Kindred as a student at UofL's the J.B. Speed School of Engineering, helping develop the company's first mobile compliance app. He graduated in August and now works for Kindred as a programmer and analyst.
"[Working with Kindred] provided me with some real world experience working in the field of healthcare," he said. "And there really is no substitute for work experience for a student."
Kindred's already working on another app that would allow nurses to assess a patient's eligibility for hospice care. There are many other projects in the works.
"At Hive, students get real-world experiences, and in return, our technology professionals gain a fresh perspective from the students," said Kindred Chief Information Officer, Charlie Wardrip. "Together, they bring the latest innovative ideas into the development of products that we can put into the hands of our patients, our customers and our team members."
He said it's also a pipeline as Kindred looks for new talent. Hive currently houses six UofL engineering students, working under supervision of faculty and Kindred staff.
Check out more from the ribbon-cutting ceremony: