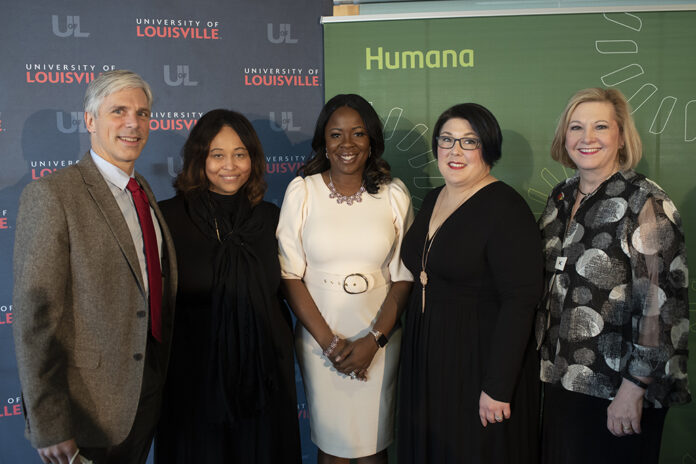 The University of Louisville's Health Equity Innovation Hub has announced more than $1 million in research funding to advance health equity for communities that have been marginalized.
The Hub was launched earlier this year as a collaboration between UofL, The Humana Foundation, and Humana Inc. aimed at closing health equity gaps facing vulnerable populations. The 10 projects awarded in this initial round of funding furthers this goal by tackling inequities in areas such as access to mental and physical health care and healthy food. Projects were eligible for up to $100,000 per year for up to three years.
Monica Wendel, who leads the Hub, said finding solutions for these challenges will create more choices for people in making decisions that affect their health. 
"These factors play a huge role in our health outcomes," said Wendel, a professor in the UofL School of Public Health and Information Sciences. "We all want to be healthy and whole. But the choices people make are the choices people have. For communities that have been marginalized, their choices are greatly limited by structural and social barriers. Our goal with the Hub and with this research is to dismantle these barriers, create more choices and thus empower people and communities."
The funded projects include: 
The Pharmacy Accessibility Index (PAI) Project (Lihui Bai, J.B. Speed School of Engineering);
Healing-Centered Capacity Building: Social Justice Youth Development Certificate (Aishia Brown, School of Public Health and Information Sciences);
An Examination of the Feasibility and Acceptability of a Racial Trauma Processing for Family Health Intervention (Emma Sterrett‐Hong, Kent School of Social Work);
Exploring Workforce Development, Well‐Being, and Organizational Readiness to Recruit, Retain Black American Adults Living in Low Resource Communities (Meera Alagaraja, College of Education and Human Development);
A Community-Engaged Feasibility Study of hrHPV Self‐Sampling for Primary Cervical Cancer Screening in Sexual and Gender Minorities (Mollie Aleshire, School of Nursing);
A Community‐based, Knowledge Translation Approach to Address Neighborhood Factors that Impact HIV Care Continuum Participation (Jelani Kerr, School of Public Health and Information Sciences);
Assessing risk factors associated with childhood lead poisoning in Jefferson County: Structural racism and a legacy of lead (Brian Guinn, School of Public Health and Information Sciences);
"Getting the Listening" in Louisville: Environmental Health Literacy and Justice in and around Rubbertown (Megan Poole, College of Arts and Sciences);
Empowered by the Sun: Exploring the Intersections of Housing Justice and Green Technologies in Louisville (David Johnson, School of Public Health and Information Sciences); and
Equity‐Centered, Trauma‐informed Teacher Preparation: Development and Study of a Teacher Residency Curriculum (Shelley Thomas, College of Education and Human Development).
Wendel said the Hub will work closely with researchers and their community partners throughout the projects and plans to open a new round of research funding in 2023. Many projects will be conducted in collaboration with Louisville-based Humana Inc., which will share anonymized data for research purposes. 
"We're proud to back both research and underrepresented minority researchers to help communities achieve greater health equity and improved outcomes," said Keni Winchester, director, strategy & community engagement at The Humana Foundation. "Through the collective efforts of researchers, community partners and the University of Louisville's Health Equity Innovation Hub, people in Louisville and beyond will thrive." 
The Hub launched with a potential total investment of $25 million from the Humana Foundation, Humana Inc., and UofL, representing one of the largest single donations in the history of the university. Humana also recently announced it would donate a fully furnished eight-story building, located at 515 W. Market St., to house the Hub's administrative team and programming. 
"This research is an important facet of the great collaboration we have with The Humana Foundation and Humana Inc.," Wendel said. "These projects are designed to lead to scalable solutions to health equity issues here in Louisville and beyond."