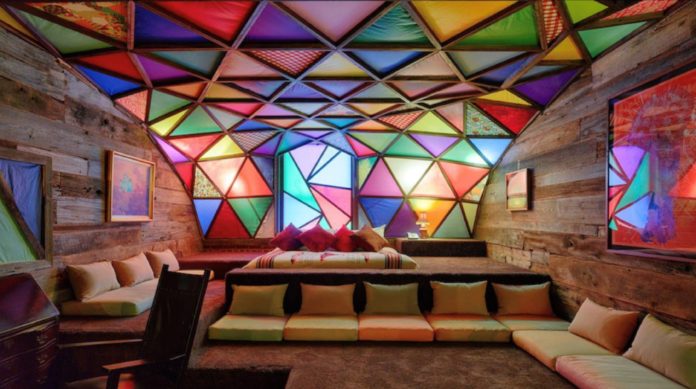 What will hotel rooms look like in the future? Maybe self-drying showers? Heated floors? Nugget ice?
Those were a few of the suggestions University of Louisville grad students Ricky Aguiar and Carlos Gonzalez made in their top-10 entry in the Hotel Room of the Future Challenge. The contest was a collaboration between 21C Museums Hotels and FirstBuild makerspace and micro-factory at UofL.
Teams were challenged to leverage modern technology, such as voice activation and internet of things, to create a new guest experience. 
"Hotels are a space where people do have baseline expectations of what they need," said Symon Harrah, community design manager at FirstBuild. "How do you build something that when people come into this room, they're just like 'wow'?"
Harrah said 21C chose to partner with FirstBuild, backed by GE Appliances, a Haier company, because of its history developing appliance products with open innovation.
"With FirstBuild, they're kind of a disrupter in the industry," said Emily Tucker, senior director of brand services at 21C. "And we find ourselves to be a disrupter in the hospitality industry."
Tucker said the open innovation is good for 21C, which has hotel-museum hybrids in seven U.S. cities, including Louisville. Because anyone can participate, 21C gets fresh ideas from people who actually visit their hotels.  
"By getting fresh perspective, new eyeballs on things that we look at on a daily basis, that allows us to break through the tunnel vision that we may find ourselves in," she said. 
As for Aguiar and Gonzalez, they're excited for the experience. They said working with FirstBuild, both on challenges and in its making community, allows students to get their hands dirty before graduating and applying for jobs. 
"Because it's partnered with GE, as a student, you're allowed to work on products that help impact the industry," Gonzalez said. "FirstBuild's a really great addition to the University of Louisville because it allows us to prototype and build things that help further our career."
Check out more about the Hotel Room of the Future Challenge in the video below: