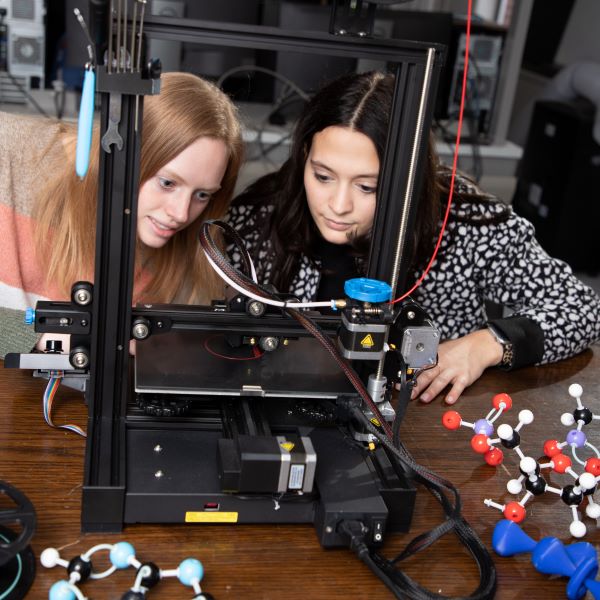 University of Louisville Speed School of Engineering is offering an elective course this semester focused on the design and prototype of educational models to enhance STEM education for blind or visually impaired (VI) students. Currently, 13 Speed School students, including undergraduate, graduate and doctoral students, have participated. Most of the students are majoring in chemical engineering, but some are mechanical or electrical.
Vance Jaeger, assistant professor, chemical engineering, instructs the class, teaching students about the development of models using CAD software to iteratively design and produce tactile educational prototypes with 3D printers. Since scientific and mathematical concepts are often taught through visual means like graphs, figures, equations, models and videos, these methods are insufficient for VI or blind students. Jaeger and his students are working toward the goal of creating tools for teaching VI students.
The project was granted $25,000 from NASA Kentucky EPSCOR (Established Program to Stimulate Competitive Research) funding in September 2021, with $25,000 cost share from UofL.
"The pool of money is meant to fund research that gets people kick-started in a new area," said Jaeger.
The inspiration for the idea came from Jaeger seeing stories online about aids for blind people, while at the same time being interested in getting into 3D printing.
"The two things sort of clicked in my head, and so I contacted the Kentucky School for the Blind," he said. 
There, he met science instructor Adam Stockhausen, who is now advising the UofL students on which concepts are most needed by visually impaired K-12 students and providing feedback on design iterations. Stockhausen is also developing a curriculum guide and tutorial for other VI instructors to ensure that the models see use within classrooms across Kentucky and the United States. UofL students' digital designs will be shared freely and openly with the maker community and educators through popular digital file sharing platforms as well.
When Jaeger was doing his research for the project, he found a great resource and ally in Mona Minkara, an assistant professor in bioengineering at Northeastern University, who is blind.
"I met her at one of the chemical engineering conferences, and told her I had some ideas about making chemical models for blind students," Jaeger said. "She's somebody who's been very helpful and has resources on her website on how to reach blind students and how to make things more accessible, so she has helped me learn."
The course crosses multiple disciplines in engineering concepts.
"Mechanical engineering is very big in computer-aided design and we don't have much of that around here, so I think that's a need we have in the department," said Jaeger. "The 3D printing technology is a mixture – you have the computer side, the mechanical, electrical and chemical side, such as materials. What is the right material and material properties to convey these ideas? What plastic? What polymer? What strength of material?"
For KSB instructor  Stockhausen, partnering with Jaeger and Speed School students was a great collaboration to find ways to get ideas across to his current student population.
"There were some things that I just had no idea how to approach," he said. "Describing things with words and then having a picture up on the screen that only half of my class can access is not effective to make sure everyone has a good understanding of what we're talking about."
He said he's used some models in the classroom over the last three years that have helped convey his ideas to his students.
"The ones we're currently working on aren't quite ready, but by the end of the UofL students' projects, I'll be able to bring them into the classroom and show them to my kids," he said.
Stockhausen will continue working on the project throughout summer 2022 developing lesson plans based on the models created.
Jaeger said he believes the project will impact at least three communities of people. The main focus are the high school students at KSB and other high school students whose instructors decide to use these models. The second group are the Speed School students, who are learning computer-aided product design as well as incorporating accessibility for persons with disabilities into what they are creating. The third group is teachers.
"With 3D printing becoming more commonplace, we can make it simple enough for any instructor out there to use it," he said.
Madelyn Peter, a junior in chemical engineering, said she was initially interested in the course when she learned they would be doing 3D modeling, something she enjoys but doesn't often get the chance to do in chemical engineering. Another reason this course appealed to her was the combination of engineering disciplines.
"We're mixing mechanical, electrical, all kind of things," she said. "It's beneficial because just like on co-op, you're never just a chemical engineer, you're all kinds. Having a class here that introduces you to other disciplines and having that experience has been really nice." 
She also believes the class has taught her to broaden her perspective.
"As an engineer, that's something we should always be considering, making things as accessible as possible," she said.
"I just think it's great that we're moving forward with projects in the undergraduate/graduate program with these kids working on stuff that will broaden their horizons and make them actually realize that not everything is built in the world to allow for everyone to have equal or equitable access to it," Jaeger added. "We can try and bridge those gaps by actively incorporating that into design as we're making it, rather than thinking of it as an afterthought."
This story originally appeared on the JB Speed School of Engineering website here.